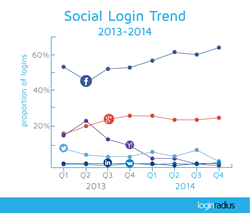 "Optimization is key in any business effort and these stats can not only show if your target audience has a high chance of using a social login option, but also presents the social networks where you probably will see the most success."
Edmonton, Ab (PRWEB) January 07, 2015
Social login and sharing continue to expand their reach and are becoming more popular everyday. LoginRadius powers over 120,000 websites' social and are using that reach to analyze the social login and sharing trends worldwide. LoginRadius' Social Login and Social Sharing Statistical Analysis shows 2014's network preferences and demographics.
LoginRadius' social stats provide an accurate picture of how social login and sharing tools were used in 2014 and by whom. With 3.2 billion views directed at LoginRadius' social sharing widgets last year alone, they have a wide audience reach to provide accurate statistics.
LoginRadius' social login platform not only seen growth, but also a broader appeal. Some of the major trends seen are:

50% of social logins occurred from both the male and female gender
The over 50 age group has grown to hold 17% of all social logins
Mobile usage has seen a significant increase and now hosts almost 30% of all logins
"Optimization is key in any business effort and these stats can not only show if your target audience has a high chance of using a social login option, but also presents the social networks where you probably will see the most success." says Deepak Gupta, the company's CTO and co-founder.
The CEO and co-founder of LoginRadius, Rakesh Soni believes that "We as a company have seen mass growth in 2014 and our stats will only get better because of that."
"With 120,000 websites using our service, we know that we can provide accurate numbers for companies to better understand social login and sharing usage."
If you are interested in reading the full report, you can download it here.
About LoginRadius
LoginRadius is a social marketing platform offering social login and sharing to web and mobile applications via Software as a Service (SaaS). It works to help businesses engage, understand, and market to their users.
They have partnered with industry leaders such as Amazon, Mozilla, Google and Microsoft, to work together towards simplifying how users connect to the web.
LoginRadius was named one of Canada's Top 25 Up and Coming Technology Companies by Branham Group. It has more than 30 employees, was incorporated in 2012, and is headquartered in Edmonton, Canada with offices in California, USA and Jaipur, India.