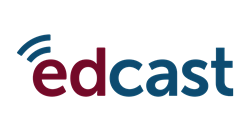 Cerego brings a new and exclusive adaptive component to the EdCast platform, which is a tremendous add-on," said Cathy Casserly, Ph.D., EdCast VP Learning Network.
Las Vegas, NV (PRWEB) January 06, 2015
Today at TransformingEDU 2015 in Las Vegas, EdCast, a Stanford StartX company that creates Knowledge Cloud platforms, partnered exclusively with Cerego, the essential memory management tool, to power personalized learning experiences on the EdCast platform. The new collaboration now gives universities, companies, and organizations a turnkey MOOC (Massive Open Online Course) solution, enhanced with proven personalized learning technology, in a fully customizable environment.
The rise of MOOCs has given companies, organizations, and universities a transformative new way to teach learners online. Now, these entities are keenly interested in customizing and branding their MOOC environments. The collaboration between these two companies instantly provides EdCast customers the ability to brand MOOCs, Small Private Online Courses plus Credit and Certification courses and enhance course content with personalized learning experiences, powered by Cerego, with no additional integration required.
"Cerego brings a new and exclusive adaptive component to the EdCast platform, which is a tremendous add-on," said Cathy Casserly, Ph.D., EdCast VP Learning Network. "We're thrilled to offer tailored learning experiences across disciplines, driving positive outcomes for our customers."
EdCast and Cerego piloted an early integration on the Ebola Education Portal, a collaborative project that invited medical and academic experts to share best practices for disease awareness and prevention. At the core of the project (Health.EdCast.Org) is a new cloud-based platform designed by EdCast that, for the first time, brings together multiple universities and organizations to share the latest developments in the search to understand the spread and prevention of Ebola. All of the educational content on Health.EdCast.Org was enhanced by Cerego to help users learn faster and remember longer through personalized learning experiences.
"We saw both promise and success in our initial collaboration with EdCast, and look forward to working with the company at an even greater scale," said Andrew Smith Lewis, Executive Chairman and Cofounder of Cerego. "We're steadfast in making sure that this comprehensive solution will serve the unique needs of universities, companies, and organizations nationwide, enabling a new standard in personalized learning and assessment."
Cerego's proven adaptive learning technology drives both retention and engagement, and allows institutions to quantify that information to accurately assess performance. As learners study with Cerego, the tool measures the rate of information absorption and memory decay, simultaneously calculating the precise moment to review in order to achieve maximum memory strength. Cerego's Memory Bank, a personalized visualization of learning progress, maps activation and memory strength across all courses and individual items studied. The Memory Bank makes learning and re-learning more efficient and effective by surfacing a granular, real-time understanding of learning and forgetting progress for each unique learner.
EdCast courses, powered by Cerego, are now publicly available. For more information, please visit http://www.edcast.com/.
About EdCast:
EdCast is a personal learning network to enhance human ability to collaborate and learn across educational materials, instructors, students and employers. EdCast Knowledge Cloud™ powers online learning portals built on OpenEdX for world class institutions, enterprises, governments and non-profits to enable millions of students to collaborate with each other and learn. The team has a track record of building large-scale transformational technology and is passionate about the global impact of mobile and online education. EdCast is a Stanford StartX company backed by tier one venture capital firms. The company is based in Mountain View, CA with offices worldwide.
About Cerego:
Cerego is the essential memory management tool. We partner with great teachers, administrators and institutions to amplify growing minds everywhere.
Our team is comprised of experts in adaptive learning and memory science. Through our core adaptive learning platform, web application and full suite of mobile applications, we have been helping students to enrich their lives, by learning and retaining knowledge more effectively for over a decade.
Cerego is located in the San Francisco Bay Area and Tokyo, Japan. For more information, visit: http://cerego.com/