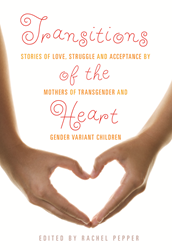 "The book, Transitions of the Heart, restores my faith in the world." —Max Wolf Valerio, author of The Testosterone Files
(PRWEB) January 07, 2015
Rachel Pepper is an award-winning journalist and Marriage and Family Therapist Intern specializing in the care of the lesbian, gay, bisexual, transgender and gender variant communities. Her books include The Transgender Child: A Handbook for Families and Professionals (written with Stephanie Brill), and Transitions of the Heart: Stories of Love, Struggle and Acceptance by Mothers of Transgender and Gender Variant Children. She sits on the Advisory Board of the Jim Collins Foundation and is the founder of the Transgender Psychology Alliance. Frequently invited to speak at both regional and national conferences, Rachel is a strong advocate for the families of transgender children.
Pepper has gathered voices of mothers from all walks of life, diverse in ethnicity, race, national origin, sexual identity, age and class. As they have struggled to understand the gender identities of their children, and their own new emotional landscapes, many are thrust into roles they never imagined they'd have to take.
In a recent article on transitioning children, Pepper wrote: "We commend the Jolie-Pitts for their unequivocal support of their child, and their willingness to allow a certain amount of media scrutiny as a result of their acceptance. No doubt there will be allegations of child abuse leveled against them, for simply allowing their child to express their affirmed gender. Sadly, those of us who work in the field understand too well that the results of not allowing a child to express who they know themselves to be, in any arena, can result in tragedy.
We see this over and over again, most recently last week, where Ohio teen Leelah Alcorn took her own life by walking into traffic. Leelah's family, conservative Christians, did not support their child's gender expression and have been reported as sending her to "reparative" therapy, which attempts to refute and shame a child into suppressing their affirmed gender. A post from Leelah on Tumblr, which she planned to appear after her death, stated, "My death needs to mean something." Although deaths such as Alcorn's can act as dramatic lightning rods in the media, not all social change happens through tragedy. Sometimes it takes people willing to take a stand, push forward in the face of prejudice, bullying, and discrimination."
Transitions of the Heart is the first collection to invite mothers of transgender and gender variant children to tell their own stories. Often "transitioning" socially and emotionally alongside their children, parents have their own parallel process to work through, and few resources to depend on. Editor Rachel Pepper has gathered voices of women from all walks of life, with children ranging in age from six to sixty, to share their experiences. These mothers have learned how to advocate for their children and themselves. By speaking out here, they are blazing a brave trail for others to follow.
"Whether you are a parent, educator, health-care professional, or just generally interested in the topic, be prepared for these stories to change your heart."
—Kim Pearson, Director and Co-founder of TransYouth Family Allies
"[A] heartwarming collection...This deeply personal book should prove an invaluable, inspiring resource."
—Publishers Weekly