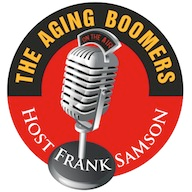 "The Aging Boomers is doing a service to this community, and we're proud to offer these podcasts on Boomeon."
Sacramento, California (PRWEB) January 08, 2015
The Aging Boomers podcast is now available on Boomeon, the "premier online community for Boomers and beyond."
"We are honored to join Boomeon's online community alongside other top-quality content aimed at the Boomer market," said Frank Samson, a certified senior advisor and the podcast's founder and host.
Other internet sites carrying The Aging Boomers include iTunes, iHeartRadio, Spreaker and Stitcher. The Aging Boomers can also be heard on The Aging Boomers website, as well as on a free, downloadable app for iPhones/iPads and Android phones/tablets.
Samson records a new show every Friday and Monday, interviewing researchers, executives, authors and health-care professionals on the three top concerns of the 45+ age group: physical, financial and mental health. The show reaches an international audience and helps educate the public on issues facing Boomers, their parents, and an aging population.
Bill Murphy, president and founder of Boomeon, participated on The Aging Boomers recently and discussed his inspiration and vision for his online boomer community.
"Boomers and their families need to continue to learn about so many topics and resources available to them," Murphy said. "The Aging Boomers is doing a service to this community, and we're proud to offer these podcasts on Boomeon."
Recent topics addressed on The Aging Boomers have included:

Alzheimer's research
Hiring your own caregiver
Fall prevention
Difficult conversations with parents
Nine tips for a sane holiday
De-stress – listen to your body
Caregiver tools and tips
The future of senior living options
Is long-term care broken for Boomers?
Samson developed the show as a weekly radio program in Sonoma, Calif., "but listeners kept asking for show recordings to share with friends and relatives," he said, "so last spring, we turned it into The Aging Boomers podcast, put it on the web, and we're thrilled to see it taking off."
The show is garnering rave reviews from listeners like Vanessa Kettler, exercise expert for older adults, who said, "It's a wonderful show, and amazing how Frank can keep having such interesting guests and topics week after week."
"I was delighted to discover this valuable podcast," wrote S. Jay Olshansky, PhD., professor of public health at the University of Illinois, Chicago, in an iTunes review of the show. "Frank Samson's effort to inform the public on senior care issues is commendable, and his interviews are both interesting and informative. The aging of our population has just begun, and the issues he has addressed thus far are just the tip of the iceberg. I'll be following this show from now on."