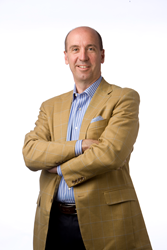 In order to prepare for the future organizations must think and act in unorthodox ways.
Boston, MA (PRWEB) January 08, 2015
The future is here. Now. And global futurist Jack Uldrich is telling people how they can live into it in the most effective ways. As a best selling author and highly regarded keynote speaker, Uldrich brings to light the advantages of being creative and using the powers of individual imagination by sharing insights on the concept of unlearning.
"In the near future, the greatest change will be the accelerating rate of change itself," says Uldrich. "And that is going to require quite a bit of unlearning for a lot of people,"
Uldrich's keynotes include topics like "Foresight 20/20" helping organizations navigate the decade ahead with an in-depth exploration of ten technological trends that will transform the world of 2020; "The Big AHA" that focuses on future-proofing through the principles of Awareness, Humility and Action, and "Business as Unusual" which prepares companies for an uncertain and unpredictable future.
"How can we prepare for this uncertainty?" asks Uldrich,"The answer is that you and your organization must think and act in unorthodox ways."
Staring on January 16th Uldrich will travel the US for the following eight engagements:
JAN 13: Informatica Corporation National Sales Meeting in Las Vegas, NV
JAN 20: Institutional Investor -- Montage Deer Valley in Park City, UT
JAN 21: Signal Hill Annual Meeting in Las Vegas, NV
JAN 22: Vision Council of America in Palm Beach Gardens, FL
JAN 26: ACEC New York in Albany, NY
JAN 27: ADTRAN, Inc. Huntsville, AL
JAN 29: Independent Bike Dealers in Phoenix, AZ
JAN 30: American Cleaning Institute in Orlando, FL
Having spoken extensively on the Verizon Wireless Connected Technology Tour last year and for ABB's latest technology launch, along with nearly a hundred other engagements, Uldrich is incredibly familiar with the just how fast technology is shifting and his goal is to help his audiences prepare for impact and flourish in the process.
Parties interested in learning more about him, his books, his daily blog or his speaking availability are encouraged to visit his website. Media wishing to know more about either the event or interviewing Jack as a futurist or trend expert can contact Amy Tomczyk at (651) 343.0660.