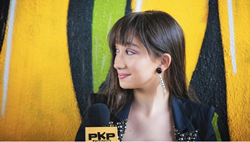 There's a new generation of women in media and I'm very proud to be part of it!
NY,NY (PRWEB) January 08, 2015
Teen celebrity journalist, Pavlina Osta has set a new Guinness World Record for most radio interviews in 24 hours: 347. This record was set at Walmart, Port Orange, Florida beginning at 9am ET on Saturday, November 22nd and ending at 9am ET on Sunday, November 23rd. Each interview consisted of a minimum of 5 questions and every question was unique. The entire 24-hour period was broadcast live on Ustream.tv and via Live365. For each interview conducted, Pavlina Osta donated one can of pet food to Sophie's Circle. The previous record holder, Claudio Siepi (Italy) had 256 interviews since 2012.
"It was an amazing 24 hours of adrenaline and I was determined to make it happen, and so excited that I did it," says seventeen year old radio host, Pavlina Osta. "This was a world wide statement for women in media, particularly women in radio - we are out here throughout the airwaves making things happen! There's a new generation of women in media and I'm very proud to be part of it!"
Pavlina Osta, host of the syndicated radio show, "Pavlina's Kidz Place" which airs on 15 radio stations, has interviewed over 400 celebrities including the world's notable superstars, athletes and newsmakers on and off the red carpet since the age of 11. Her extensive list of interviewees include entrepreneur visionaries such as Steven Forbes, popular music celebrities and musicians including Carly Rae Jepsen, FUN, Imagine Dragons, Daughtry, Ed Sheeran and The Wanted, along with professional athletes including the NBA's Shaquille O'Neal, Vince Carter, NASCAR driver Jeff Gordon and broadcast legend Katie Couric.
Pavlina Osta, teen celebrity journalist, radio host, Gracie Award Winner, Disney Dreamer participant, Huffington Post contributor, and author, now has another award to add to her portfolio. Her new book, Talk To Me, is now available for download on Amazon, and tells the impressive story of Pavlina Osta's early success.
Guinness World Record Announcement: http://www.guinnessworldrecords.com/world-records/most-radio-interviews-conducted-in-24-hours
For media inquiries, please contact Ariane Sloan at ariane@socialflyny.com/ (917) 565-2204.