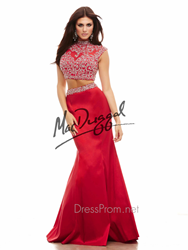 GREENVILLE, South Carolina (PRWEB) January 12, 2015
Online prom dress retailer DressProm.net always makes it a point to stay on top of the current prom dress trends, and the popular dress company recently unveiled its list of the top prom trends for the upcoming year. According to DressProm.net, 2015 will bring about trends like dresses with sleeves and high necklines, as well as a continuation of this year's popular two-piece prom dresses.
Prom dresses with sleeves will become popular in 2015 because of their look of sophistication that is a bit more refined than sleeveless dresses from the past. DressProm.net offers not only long-sleeved prom dresses, but also formal dresses with a variety of other styles of sleeves. Cap sleeves and off-the-shoulder sleeves with scoop necklines keep the wearer a bit more covered up than dresses with thin straps, but they still show the arms in a graceful, feminine way. The site will also carry asymmetrical long-sleeved prom dresses, which feature just one sleeve that extends to the wrist for a more daring, high fashion look. Fans of more traditional styles will appreciate DressProm.net's long-sleeved dresses, which include both opaque sleeves and sheer illusion sleeves covered in hand beaded crystals.
A high neckline is another prom fashion trend that is a welcome alternative to the usual plunging neckline. "We're seeing more and more girls who love this look because it has a timeless, old Hollywood appeal," says Kim Holloway, Senior Fashion Consultant at DressProm.net. "These types of dresses also allow you to get a bit edgier in the bodice and skirt."
Two-piece dresses, one of the most popular prom trends for the past few seasons, will continue their popularity into 2015. DressProm.net predicts that these midriff-baring styles will still be just as popular among prom-goers, and they're preparing with an entirely new selection of two-piece gowns for the upcoming prom season. Options include dresses that show the entire stomach or just a slight peek of midriff, as well as a number of styles in between.
About DressProm.net
DressProm.net was founded on the strength of owner Dimitra Mandala's 30 years of dressmaking experience. The design school graduate transitioned from the Los Angles fashion industry to Greenville, S.C., where she opened up her own brick-and-mortar dress emporium. DressProm.net, the prom website from Dimitra Designs, has since grown to become one of the largest suppliers of genuine name-brand prom dresses on the Internet.