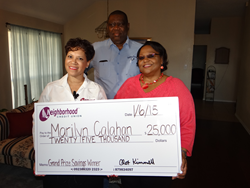 Think about it: you save your money, and then you get a prize for saving your money. It's a win-win. It's better than the lottery!
DALLAS, Texas (PRWEB) January 09, 2015
Exercising discipline and being "financially fit" can reap unexpected rewards, as one Lancaster woman found out this week.
Marilyn Calahan, a 27-year member of Neighborhood Credit Union, received an in-person visit at her Lancaster home on January 6 by credit union leaders who brought her a big surprise: $25,000. Calahan's name was drawn on New Year's Day from the ranks of members who have a Prize Savings Account, a special account created by the not-for-profit credit union to encourage more people to save money. Neighborhood Credit Union rewards good saving habits with prize drawings throughout the year, culminating with the $25,000 Grand Prize at the beginning of each new year. The funds were deposited directly into Calahan's Prize Savings Account.
"This is so unexpected, it's one of the best gifts you could get," said Calahan. "Think about it: you save your money, and then you get a prize for saving your money. It's a win-win. It's better than the lottery!"
Calahan became a member of Neighborhood Credit Union when she was only 20 years ago, working at the U.S. Department of Agriculture and attending Cedar Valley College. Currently, she works at the Social Security Administration as a specialist who helps solve more challenging questions that come from callers around the nation.
Neighborhood Credit Union Senior Vice President Carolyn Jordan described the 47-year-old Calahan as "a model for how consistent, disciplined savings habits can lead to a 'financially fit' lifestyle."
"I believe that if you pay yourself first, everything else will fall into place," explained Calahan, who said good savings habits are something even her grandkids are already learning. "I have two deposits that automatically go into savings from every paycheck. If you don't see it, you don't miss it. And every time I get a raise, my savings account gets a raise."
Calahan said she plans to use the prize to pay off her mortgage. "My husband and I are working toward early retirement, so this will be a great start," she said. "I am so grateful. I'm trying not to cry."
View the video of the surprise delivery by clicking here.
How the Prize Savings Account works: Neighborhood Credit Union members receive one drawing entry for every $25 monthly average balance in their Prize Savings Accounts. The greater the savings, the greater the chance a member has of winning. Members are eligible for monthly $1,000 drawings and quarterly $10,000 drawings. At the conclusion of each year, a Grand Prize winner is drawn for the $25,000 jackpot based on the average monthly balance in the savings account at the close of business December 31.
About Neighborhood Credit Union: The oldest credit union in Dallas (chartered April 18, 1930), Neighborhood Credit Union is a not-for-profit financial organization serving Dallas and Ellis counties, as well as the city of Arlington. With branches in Oak Cliff, North Dallas, Richardson, Arlington, Mesquite, Duncanville, Waxahachie, Lancaster, Grand Prairie and Coppell and assets topping $342 million, Neighborhood Credit Union has a membership of 32,000 and continues to welcome new members daily. For more information, call (214) 748-9393 or visit http://www.myncu.com.