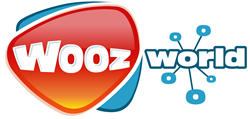 "Keeping our pre-teen and teen users safe and respecting their privacy is our top priority." remarks Allen Achilles, Kidzworld CEO
Vancouver-Montreal (PRWEB) January 13, 2015
It is an exciting opportunity for Kidzworld and Woozworld to partner allowing all members to experience both platforms. When visiting Woozworld on mobile or web users can enter the Kidzworld branded Virtual space. Within this space members can interact with Dish-it, watch Kidzworld videos, participate in contests, be challenged by a Kidzworld quiz or join a custom live talk show event hosted by Woozworld celeb, Mya Woozen. All this gives huge exposure to the over 3.0 million unique users Woozworld has each month.
Simultaneously, Woozworld is integrated into Kidzworld through their premium games section, Custom Woozworld Quizzes, Branded Content in the Forums and Groups areas as well as Premium Ad placement.
About Kidzworld - a Safe, Secure, Social Network and Online Magazine for pre-teens and teens. Hosting the latest in movie reviews, exclusive celeb interviews, video game reviews and much, much more, Kidzworld is a platform for self-expression; encouraging users to express themselves through their profiles, blogs, forums, stories and poetry. Kidzworld offers chat rooms, forums, fully customizable profiles, even homework help!! Science project due and need some idea's? Kidzworld has you covered. With Kidzworld, you can express yourself and learn – while making new friends within our global community of 2.3 million monthly users from all around the world.
About Woozworld Inc. Since 2010, Montreal-based Woozworld http://www.woozworld.com has become one of the premiere virtual worlds and social networks for tweens. The company has continued to dedicate itself to creating a safe gaming environment that tweens can enjoy and parents can trust. Targeted for children ages 8 to 14, Woozworld provides an engaging and interactive virtual social network experience by allowing members to create their own world where they can fashion their own characters, make new Woozworld friends, and conduct virtual businesses. All personal information is protected, and Woozworld strictly conforms to the Children's Online Privacy Protection Act and is PRIVO Privacy Certified. Woozworld is backed by Telesystem http://www.telesystem.ca and iNovia Capital http://www.inovia.vc. For more information, Woozworld can be found at http://www.woozworld.com and http://corporate.woozworld.com/ or follow the company on Twitter at https://twitter.com/woozworldcorp.
"Keeping our pre-teen and teen users safe and respecting their privacy is our top priority." remarks Allen Achilles, Kidzworld CEO
Commenting on the partnership, Simonetta Lulli, President and CEO of Woozworld said "Woozworld users, as any pre-teen are always looking for the latest music updates and celebrity information. What better way than to integrate that experience within Woozworld by partnering with Kidzworld."
Both Kidzworld and Woozworld are fully COPPA (Children's Online Privacy Protection Act) Compliant. Both Kidzworld and Woozworld use cutting edge technology to filter conversations and are monitored by an experienced team of human moderators that work tirelessly to ensure all users safety.
For complete collaboration details or any questions please contact Kidzworld Media Relations Deanna Beaudoin T: 1.250.650.4327 E: deanna(at)kidzworld(dot)com Follow us: @kidzworld on Twitter | Kidzworld on Facebook; and Brand Director Chantal Bertrand at press(at)woozowrld(dot)com