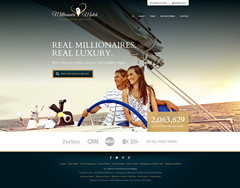 (PRWEB) January 16, 2015
It is a fact that there are now several millionaire dating sites to use. Such millionaire dating sites enable more men and women to find millionaire partners. Joining MillionaireMatch.com is free, however, members can actually upgrade their membership to Gold. Members of MillionaireMatch.com are free to answer the poll shared by MillionaireMatch.com.
Launching this poll serves as a way for many people to share their thoughts and feelings in terms of marrying whether for love or money. The survey will benefit both members and MillionaireMatch.com because MillionaireMatch.com will understand people's ideas and feelings regarding marriage. By means of understanding people's reason for marrying, Millionaire Match.com can get ideas on how they can provide better millionaire dating strategies suitable for people who want to find millionaire partners.
As of now, MillionaireMatch.com expects that more members will share their thoughts and feelings when it comes to marrying. The dating site invites more members to answer the poll question and share opinions and experiences when it comes on marrying either for money or love. Members who answer the poll question can get options whether to put their names or make their shared opinions anonymous.
MillionaireMatch.com is a millionaire dating site that aims to match men and women. It is a millionaire dating site included on the top 5 dating sites list of millionairedatingsites.us. MillionaireMatch.com serves as a great platform for men and women who want to find millionaire partners. The opinion poll offered by MillioniareMatch.com will help men and women to share their opinions regarding on marrying someone either for love or money.
To know more about the opinion poll that MillionaireMatch.com will launch called "Will you marry for money or for love?", feel free to visit http://www.millionairematch.com .