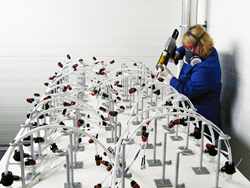 Although cancer research has progressed significantly, awareness of occupational cancer risks is still low.
(PRWEB UK) 4 February 2015
The focus of this year's World Cancer Day is on detection, treatment and care. EU-OSHA's report gives recommendations for filling gaps in our present knowledge, a crucial task if we are to improve identification and prevention of occupational cancer.
It concentrates on the assessment of carcinogens and work-related cancer with the following objectives:

To describe carcinogens and cancer-causing conditions in the workplace
To evaluate sources of information and identify knowledge gaps
To give recommendations for filling these gaps
To describe prevention measures
EU-OSHA's director, Dr Christa Sedlatschek, notes the significance of this publication: 'This report provides practical recommendations on further broadening our knowledge on occupational cancer. Although cancer research has progressed significantly in the recent past, awareness of occupational cancer risks is still low. Therefore, it is crucial that awareness and knowledge of these risks is improved, and this report takes the first step towards this.'
The report looks at chemical, biological, organisational and physical factors that contribute to occupational cancer. It also stresses the need to consider the current work environment, characterised by increased subcontracting, temporary work, multiple jobs, static work, female employment in exposed occupations, and atypical working times and multiple exposures. The issue of groups which are particularly vulnerable to cancer (e.g. young people, women, those experiencing high exposures or precarious conditions) is also addressed.
A key finding of the report is the need to broaden our knowledge base on occupational cancer. It identifies several key ways to do this, including information exchange at the international level and considering new and emerging risks, such as nanomaterials, endocrine-disrupting compounds, static work, and shift and night work.
An overview of possible solutions is given, but the report stresses that the most effective measure is avoidance of exposure. To achieve this, efforts are required at all levels, including in legislation, awareness- raising, specifications of preventive measures, improved implementation and enforcement, and lowering barriers to compensation.
Links:
Read the summary and full report
See more work-related cancer information on OSHwiki
Workshop summary on carcinogens and work-related cancer
Find out more about World Cancer Day
________________________________________
Notes to editors
1. The European Agency for Safety and Health at Work (EU-OSHA) contributes to making Europe a safer, healthier and more productive place to work. The Agency researches, develops, and distributes reliable, balanced, and impartial safety and health information and organises pan-European awareness raising campaigns. Set up by the European Union in 1996 and based in Bilbao, Spain, the Agency brings together representatives from the European Commission, Member State governments, employers' and workers' organisations, as well as leading experts in each of the EU Member States and beyond.
Now you can follow us on Facebook, Twitter, visit the Agency's blog or subscribe to our monthly newsletter OSHmail. You can also register for regular news and information from EU-OSHA via RSS feeds.
Press inquiries
Birgit Müller - International press +34 944 358 359 | news(at)osha.europa(dot)eu
Marta Urrutia - Spanish press +34 944 358 357 | noticias(at)osha.europa(dot)eu
Brenda O'Brien - Brussels Liaison Office +32 2 401 68 59 | obrien(at)osha.europa(dot)eu