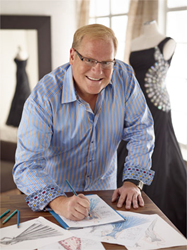 "Fashion design is fluid, it moves," - Jay Reynolds
Dallas, TX (PRWEB) January 15, 2015
Terry Costa, Dallas fashion landmark, is hosting their biannual House of Wu Bridal and Tiffany Prom Trunk Show this weekend at their Preston and 635 location. The Bridal and Prom superstore, one of the largest in the south, will host top designers from the House of Wu design team who will feature their fabulous spring collections! To celebrate this exciting opportunity Terry Costa is offering brides an excellent opportunity--a chance to save 20% off all House of Wu bridal gowns and Christina Wu Occasions (formerly labeled Pretty Maids) bridesmaids' dresses!
"We've never had this many guest designers in-house in one weekend," says Terry Costa CEO and owner, Tina Loyd. "There's nothing quite like trying on bridal gowns with a member of the design team standing right next to you. They offer a truly unique perspective on fit and style."
Terry Costa Brides will have the amazing opportunity to meet House of Wu Executive Bridal Designer, Arthur Huston. Mr. Huston will assist Terry Costa Brides find their own fabulous aisle style by offering his expertise, garnered from decades in the industry.
The fabulous Prom Design Team will feature Liz Luo, Tiffany Prom and Hanna S. Designer, and Jay Reynolds, Panoply and Studio 17 Designers. The stylish duo will be full of inspiration and ready to help Terry Costa's fashion-forward Prom and pageant clientele, known for their unique approach to modern styling. Reynolds, who started designing at the young age of 13, became a household name with his collection at a benefit featuring Dior inspired ballgown styles made of camouflage and heavy black plastic. His success at the benefit lead him to design for Sandra Bullock, Kristin Dunst, Kristie Alley, RuPaul, and was the chosen designer for the gowns worn by athletes during the Gold Medal Ceremonies at the 1996 Atlanta Olympics.
Liz Luo started designing for House of Wu 8 years ago. "Her knowledge of a garment's proper fit and design, combined with her innate creative abilities, results in an effortless and wearable line that reflect the kind of woman she is herself; strong, sexy, fun, and fearless," according to her bio at houseofwu.com.
House of Wu offers a fashion forward collection of Bridal Gowns, Bridesmaids Dresses, Prom Dress, Pageant Dresses and much more. Brides can call 972-385-6100 to inquire about appointments for Saturday and walk-ins are accepted seven days a week.