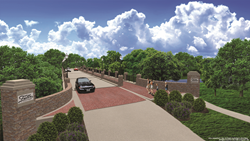 The new access road connects travelers to the future Grand Parkway Toll Road
Spring, Texas (PRWEB) January 14, 2015
Jim Holcomb, the developer of Imperial Oaks and Falls at Imperial Oaks and Brian Jarrard, Director of Land Development for Holcomb Properties have finished a mega road and bridge extension project in Spring, Texas paving the way for families to get home faster by expanding Birnham Woods Drive to connect major thoroughfares.
Offering a more convenient straight-shot to the award-winning, master-planned community, Falls at Imperial Oaks, the new access road connects Northridge Forest South to Elan Blvd., in turn connecting travelers to the future Grand Parkway Toll Road.
A ribbon cutting celebration ceremony will be held on February 4, 2015 at 1:30pm hosted by Holcomb Properties with special honorary guest, Commissioner James Noack, Precinct Three Montgomery County. The event will be on the bridge on Birnham Woods Drive, north of Elan Blvd.
The ribbon cutting ceremony will feature music by the Birnham Woods Elementary choir led by Hope Louviere. The community is encouraged to attend.
The event will end at 2pm.
The media is encouraged to arrive at 12:45pm for interviews and photo opportunities. For more information about the Falls at Imperial Oaks, please visit http://www.fallsatimperialoaks.com
Media Contact:
Heather J. Taylor
On-Target! Agency
281-444-4777 office
323-839-4488 mobile