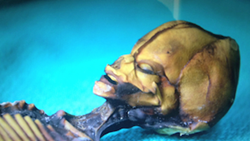 Los Angeles, CA (PRWEB) January 13, 2015
Infuse Creative and CEO Gregory Markel were thrilled to learn of Yekra's recently released case study explaining the success of the independent documentary film, 'Sirius,' found here.
Infuse Creative provided 'Sirius' paid search, SEO, content creation and marketing, digital and offline PR, social marketing, community building, affiliate strategy, and overall digital marketing strategy to the film's pre and post related release.
Amongst all the marketing efforts, the Infuse Creative's written and distributed press release led to a 4 day front page presence and top trending related story on the Huffington Post as covered by Lee Siegal, and contributed significantly to the affiliate building that wound up being responsible for a significant portion of film revenue.
The Infuse Creative team worked on strategy and execution directly with the 'Sirius' film's team including Executive Producer JD Seraphine, Producer Christopher Crescitelli, Director Amardeep Kaleka, it' star, Dr. Steven Greer, Emily Greer and Yekra's Lee Waterworth.
The Yekra 'Sirius' case study, found here, includes a Slideshare PowerPoint that illustrates the following points:

'Sirius' grossed over $250,000 in the first 24hrs of release via the Yekra VOD platform and affiliate channels with over $550,000 grossed to date and growing, with approximately 50% of revenue driven by affiliates.
At the time of release, 'Sirius' held the record for the greatest documentary crowd fundraiser in history.
Read more about Yekra's 'Sirius' case study, here
Watch 'Sirius' over the Yekra platform, here
About Gregory Markel and Infuse Creative
Founded in 2001 by Gregory Markel, known as 'one of the pioneers of SEO,' has provided SEO, search marketing, social media, mobile, TV advertising, reputation management, security, and digital marketing services to an extremely diverse range of clients including corporations, governments, politicians, celebrities, well known executives and others for the last 12 years including Sony, Universal, Roadside Attractions, Mazda, Disney, Gibson Musical Instruments, New Line Cinema, Warner Bros., TomCruise.com, Participant Media, Pacificare, The BBC, Ed Hardy, Led Zeppelin, Lord of the Rings, CBS, FOX, The National Geographic Channel, Transcendental Meditation, California Legislative Bureau, Reality Executives International, and many more. Gregory is a regular speaker on all things digital, most recently, at USC's Annenberg Program on Online Communities. Learn more about Infuse Creative, here: http://www.infusecreative.com