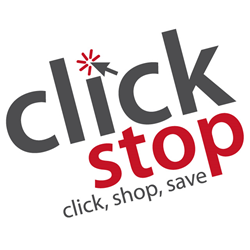 We really hope to lend a helping hand to those in need, providing good, quality items they need to get past a rough patch or hard times.
Urbana, IA (PRWEB) January 15, 2015
When Loraine Kelty and Ashley Rambo of Clickstop were organizing the company's annual Christmas Cares program in October, the need they saw in local communities was overwhelming.
The Christmas giving program, which involves the Clickstop Cares committee providing six to eight area families in need with Christmas gifts, clothes, and basic necessities, had a record number of families this year: 12, with more requests and suggestions coming in weekly.
The company works closely with area schools and agencies who suggest families in need that the company should assist. The Clickstop Cares team then collects wish lists, shops, wraps, and delivers the gifts to the family or assisting agency in mid-December.
"We've been doing this for seven years and each year it seems the number of families in need grows," said Rambo. "It's extremely eye-opening; realizing how many in our communities don't have the financial resources to not only celebrate the holidays, but also often lack basic necessities like housewares, clothing, and toiletries."
The wide-ranging needs of the families prompted Clickstop to also include household supplies and toiletries in its pre-holiday deliveries, and in recent years employees have tracked down used appliances and furniture to give to the families in need.
During the planning of Christmas Cares, Kelty, Rambo and the rest of the team brainstormed ways they could keep the giving going, beyond the holidays. With $50,000 in the Clickstop Cares fund thanks to the company's profit sharing, and an empty office space vacated when employees moved to a new building in 2011, the idea of a Clickstop Cares "closet" was born.
The large office space on Bing Miller Lane in Urbana will house donations, which will in turn be available for local families in need. Clickstop Cares will accept gently used clothing, household goods, furniture, and toys. The team hopes to secure donations of new toiletries, paper products, and household cleaners to have on hand as well.
According to Kelty, the team's mission is to provide a help up to those in need, not just a hand out.
"We really hope to lend a helping hand to those in need, providing good, quality items they need to get past a rough patch or hard times," said Kelty. "Particularly when it comes to the clothing for kids, we're looking for gently used items so these kids will fit in, not stand out. For that reason, we'll be somewhat picky about what we accept."
The team is currently accepting donations and has a target opening date of March 1st. The company is in the process of applying as a 501(c)(3) non-profit organization, which means donations will then be tax-deductible.
The Clickstop Cares team is also researching grants and corporate funding options, and reaching out to other local business to help fill Clickstop Cares and provide to those in need.
If you'd like to donate items, make a personal monetary donation, or on behalf of an organization, please call 1-888-794-1413 or email Cares(at)Clickstop(dot)com for more information.
About Clickstop, Inc.
Clickstop is the parent company of a suite of online retail stores based in Urbana, Iowa. Its focus on great workplace culture has landed the company multiple work environment-focused awards including two first place achievements as the Coolest Place to Work. Clickstop web properties serve diverse markets that include the moving and cargo control industry, energy efficient insulation products, and home organizing solutions. For more information visit Clickstop.com.