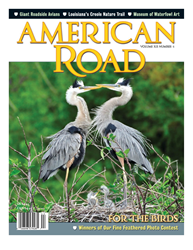 (PRWEB) January 20, 2015
This issue of American Road is dedicated to birds—those free spirits of the air who seem ageless as they sail through the centuries. The tribute begins with a trip that is timelessness itself: "Watch the Birdies" explores Louisiana's Creole Nature Trail, that warbling line of beaches and bayous, salt marshes and Creole culture. Wetland refuges thrive in the brine and thrill bird-watchers who come to sneak peeks at paradise. "American Road's Big Birds" visits twenty-one of the nation's largest roadside avians. Here, one finds the huge Bluebird of Happiness, prodigious Pelican Pete, colossal Claire d'Loon, and a flock of additional oversized fowl too enormous to fit in a birdcage.
American Road departments continue our avicular theme. Staff seek out sandhill cranes on the Lincoln Highway, sing tribute to the Yard Birds of US Highway 99, and embrace the art of decoy carving at the Ward Museum of Waterfowl Art before bedding down at Tennessee's Peabody Hotel with its royal resident mallards.
About
American Road® is an award-winning periodical published quarterly by Mock Turtle Press, distributed internationally by Disticor, and now available at newsstands and fine bookstores. American Road® also offers a digital edition and an iTunes app for the iPad.
Americanroadmagazine.com provides the visitor with tools to discover that hidden landmark and make new memories on the road less traveled. Readers will find sponsored downloadable trip itineraries that make travel planning a breeze, as well as the American Road® Forums—the ultimate road trip community.
To preview the current issue, visit: http://americanroadmagazine.com/previewmag.html