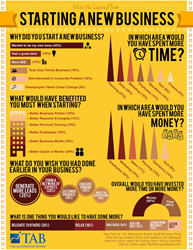 "We found that entrepreneurs are confident in their products and services, but feel they would have benefited from better planning and more guidance." – Jason Zickerman
Denver, CO (PRWEB) January 15, 2015
A survey conducted by The Alternative Board polled hundreds of entrepreneurs about their business outlook and what they would do differently, if they had the chance to start over. Given the option, 86% of entrepreneurs responded that they would still choose to start their own business, but would invest their time and money differently, with more focus on sales, strategic planning and marketing.
"We found that entrepreneurs are confident in their products and services, but feel they would have benefited from better planning and more guidance," says Jason Zickerman, CEO of The Alternative Board. "24% of entrepreneurs say that better coaches and mentors would make the single biggest difference in their businesses if they did it over. Only 2% say that a better product would."
Between time and money, a majority of entrepreneurs would invest more money in their business if they could do it over. They would also put their dollars in different places, investing more in finding leads and quality talent. More than a third would increase their budgets for marketing, sales and lead development, while 20% would invest more in hiring and training employees. They would also adjust how they invested their time, with 27% putting more hours into strategic planning.
What advice would seasoned business owners offer newly minted entrepreneurs? "Find your customers, surround yourself with smart people and make use of your team," says Zickerman. The majority of respondents (80%) agreed that customer and client development is more important than product and service development, and 38% wish they had delegated more to others.
"It's one thing to think about what you would do differently, but it's another to have that guidance when you're just starting out," says Zickerman. "That's why business owners are looking at solutions like The Alternative Board — they're realizing that there are entrepreneurs who have been there and done that, and can help them avoid learning these lessons the hard way."
While in hindsight, entrepreneurs would make different decisions about their businesses, they are also optimistic about what's ahead. The majority of respondents saw their sales increase in 2014, and 82% expect increased revenues in 2015.
A white paper detailing the survey results is available on TAB's website. With thousands of members across the globe, The Alternative Board offers business owner advisory boards, executive coaching and business training to help budding entrepreneurs and seasoned professionals grow their businesses, increase profits and improve their lives.
To review the raw survey data, or to schedule an interview with David Scarola, contact Lynn Maleh at lynn(at)contentfac(dot)com.