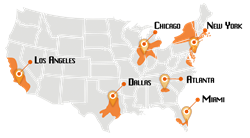 Lice often spread quickly during the holiday season.
New York, NY (PRWEB) January 16, 2015
Head lice spreads through contact—either head-to-head contact or via a surface or item that has come into contact with the head of a person who is currently experiencing an infestation - think upholstered seats and furniture, hats, combs, pillows and blankets. During the holiday season, we're sitting on airplanes, sleeping on relatives' sofas and perhaps sharing hats or hairbrushes. It isn't hard to see why this parasite is on the move this time of year.
Now that the holidays are over, people will start to notice cases of head lice. This is due to the fact that it often takes at least a week for the itchy welts to develop, signaling an infestation. Prior to this, an individual may have an infestation in progress but does not realize it. The individual may still be able to pass lice to others despite having no discernible symptoms.
Head lice, while they are an irritating nuisance, are no cause for alarm. The key is to get rid of the infestation as quickly as possible to eliminate your own discomfort and to prevent spreading the parasite to others.
Arie Harel of the Lice Troopers New York Lice Treatment Center says: "We always expect this to be a busy time of year for our clinics. Our job is to help families get rid of lice in a way that is safe, all-natural and hassle free. It's already a hectic time of year—no one has time for lice."
Located at 306 Ave N, Brooklyn, NY 11230, Lice Troopers also serves Chelsea, Chinatown, East Village, Financial District, Gramercy, Greenwich Village, Little Italy, Lower East Side, Midtown East, Midtown West, Soho, Tribeca, Upper East Side, and Upper West Side. Clients may schedule lice screenings and lice treatments at their clinic location or arrange for a house call.
Lice Troopers is the all-natural, guaranteed Head Lice Removal Service™ that manually removes the head louse parasite safely and discreetly in child-friendly salon settings, or other chosen location. Providing safe solutions for frantic families, the Lice Troopers team has successfully treated thousands of families nationwide, with services widely recommended by pediatricians and reimbursed by many major health insurance carriers, flexible spending accounts and health savings accounts.
For more information, contact:
Jennie Harel, President
licetroopers(at)gmail(dot)com