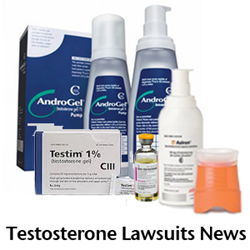 If you believe you have experienced cardiac events or other side-effects due to low testosterone treatment drugs contact the attorneys at Wright & Schulte LLC for a free legal evaluation by calling 1-800-399-0795 or visit www.yourlegalhelp.com
Columbus, OH (PRWEB) January 17, 2015
An attempt to dismiss 39 low testosterone drug lawsuits filed against the makers of Androderm, AndroGel, Testim and other testosterone replacement products was rejected by the judge presiding over the multidistrict litigation, Wright & Schulte LLC reports. The testosterone producers asked U.S. District Judge Matthew F. Kennelly to dismiss the lawsuits for various reasons, including the plaintiffs' failure to plausibly allege that testosterone replacement therapy products caused their injuries that include stroke, heart attack and other cardiovascular disorders. The defendants contend that the scientific studies cited by the plaintiffs have been discredited and that the link between testosterone products and the plaintiffs injuries have not be "conclusively proven." In an order issued on December 23, 2014, Judge Kennelly, who is presiding over the testosterone litigation in the U.S. District Court, Northern District of Illinois, wrote that the scientific studies and U.S. Food and Drug Administration's (FDA) order for testosterone manufacturers to change their drug labels regarding the risk of venous thromboembolism makes "reasonable inferences" that the plaintiffs have sufficiently alleged general causation between their injuries and use of testosterone products. (In re: Testosterone Replacement Therapy Product Liability Litigation – MDL No. 2545)
Judge Kennelly noted in his order that the 39 low testosterone drug lawsuits that the defendants sought to dismiss had been filed prior to the consolidation of testosterone complaints in the Northern Illinois federal court. In June, the U.S. Judicial Panel on Multidistrict Litigation (JPML) ordered an industrywide consolidation of all federally filed lawsuits that allege injuries, such as heart attack, blood clots, stroke and death from using testosterone products. The JPML's order allowed testosterone lawsuits, regardless of the manufacturer, to be centralized to reduce potentially costly expert discovery and reduce inconsistent rulings during the pretrial proceedings. According to the JPML's case list, 274 testosterone lawsuits are pending in MDL 2545 as of December 15, 2014. (In re: Testosterone Replacement Therapy Product Liability Litigation – MDL No. 2545)
[http://www.jpml.uscourts.gov/sites/jpml/files/Pending_MDL_Dockets_By_District-December-15-2014.pdf, December 15, 2014]
The firm continues to investigate claims of serious side effects after taking low testosterone drugs and offers free lawsuit evaluations to men, or their survivors, who believe they have suffered heart attacks, strokes or even death after using the low testosterone therapy drugs such as AndroGel, Androderm, Depo or Testim. To speak with one of the firms experienced attorneys call 1-800-399-0795 or visit yourlegalhelp.com for more information on Low-T drug side-effects and other prescription drug information.
Testosterone lawsuit filings began to increase after the FDA announced in January 2014 that it was launching an investigation into all FDA-approved testosterone products, such as Axiron, Depo-Testosterone, and Fortesta that are used to treat hypogonadism, which is low testosterone levels in men due to an underlying medical condition. The federal regulatory agency announced that it was taking this action after reviewing two observational studies. The first study was published in the November 2013 Journal of the American Medical Association. The study found that older men who had underlying cardiovascular disease and took testosterone replacement therapy had a 30 percent increased risk of having a stroke, heart attack or death compared to men who did not take low testosterone treatment. The second study, published in the PLOS One Journal in January 2014, found that men over 65 and younger men with a pre-existing heart disease were at a greater risk of having a heart attack within the first 90 days after taking low testosterone drugs for the first time. [http://www.fda.gov/Drugs/DrugSafety/ucm383904.htm, January 31, 2014] [http://www.plosone.org/article/info%3Adoi%2F10.1371%2Fjournal.pone.0085805, January 29, 2014
[http://jama.jamanetwork.com/article.aspx?articleid=1764051, November 6, 2013]
In June, the FDA ordered testosterone manufacturers to widen their drug labels to include a general warning about the risk of venous thromboembolism, or blood clots in the veins. Venous thromboembolism includes deep vein thrombosis and pulmonary embolism. The FDA explained that the risk of venous blood clots was already included in the labeling of testosterone products as a possible consequence of polycythemia, an abnormal increase in the number of red blood cells that sometimes occurs with testosterone treatment. However, because of postmarket reports of venous blood clots that were not associated with polycythemia, FDA said it was requiring the change to drug labeling of all testosterone products to provide a more general warning regarding venous blood clots and to ensure this risk is described consistently in the labeling of all approved testosterone products.
[http://www.fda.gov/Drugs/DrugSafety/ucm401746.htm, June 19, 2014]
Court documents indicate that the JPML's industrywide consolidation included testosterone complaints pending against:

AbbVie Inc. and Abbot Laboratories, which manufactures and markets AndroGel
Auxilium Pharmaceuticals, Inc., which manufactures Testim
Endo Pharmaceuticals Inc., the maker of Delatestryl and Fortesta
Eli Lilly and Company and Lilly USA LLC, the makers of Axiron
Pfizer Inc. and its subsidiary, Pharmacia & Upjohn Co., which makes and markets Depo-Testosterone.
(In re: Testosterone Replacement Therapy Product Liability Litigation – MDL No. 2545)
About Wright & Schulte LLC
Wright & Schulte LLC, an experienced personal injury firm, is dedicated to the belief that America's legal system should work for the people. Every day, the attorneys of Wright Schulte LLC stand up for the rights of people who have been injured or wronged, and fight tirelessly to ensure that even the world's most powerful corporations take responsibility for their actions. If you're looking for a law firm that will guarantee the aggressive and personal representation you deserve, please do not hesitate to contact Wright & Schulte LLC today. Free testosterone lawsuit case evaluations are available through yourlegalhelp.com, or call 1-888-399-0795.
Contact:
Wright & Schulte LLC
812 East National Road
Vandalia, Ohio 45377
1-800-399-0795
http://www.yourlegalhelp.com
Like us on Facebook
Follow us on Twitter
Join us on Google+