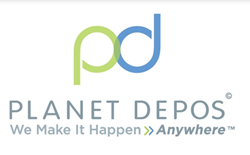 Washington, DC (PRWEB) January 20, 2015
Planet Depos, LLC, a global court reporting company providing best-in-class court reporting, interpretation and trial support services, announces the acquisition of Chicago-area Realtime & Court Reporting, Ltd. Chicago-area Realtime and its predecessor company have provided court reporting, legal videography, CART, and related services in the Chicago metropolitan area for more than 40 years. The acquisition, which is consistent with Planet Depos' strategic expansion efforts, enhances Planet Depos' resources in the Midwest, enabling it to better serve the court reporting needs of law firms in and outside of Illinois.
Planet Depos has had a presence in Chicago since its inception in 2009. "Through this strategic acquisition, Planet Depos will strengthen its foothold throughout the Midwest by providing our clients with expanded resources in the way of highly skilled court reporters, advanced technology in realtime reporting, legal videography, and the most innovative delivery of services," said Lisa DiMonte, Planet Depos CEO.
Chicago-area Realtime & Court Reporting has long served as a preeminent court reporting agency, leading in technical excellence, advanced technology, and client satisfaction – a model well matched with Planet Depos on a global scale. "We are looking forward to expanding our services and client base with the support of a global team of professionals. The acquisition by Planet Depos will create new opportunities for our talented pool of highly certified court reporters," said Melanie Humphrey-Sonntag, President and CEO of Chicago-area Realtime. With more than 30 years in the business as a highly credentialed reporter, Past President of the National Court Reporters Association, and a national speed contest medalist, Sonntag is well known within the industry as demonstrating and promoting court reporting excellence.
The only international court reporting company led by court reporters with proven track records in the industry, Planet Depos provides court reporting and related services throughout the United States and abroad to international law firms, worldwide corporations, and government entities. "We are committed to high standards for court reporting excellence through certification and continuing education," says Planet Depos' CEO, Lisa DiMonte. "We engage the most elite professionals, capable of delivering the most innovative technology available. We share the same core values and commitment to our profession as the clients whom we serve."
About Planet Depos
Planet Depos, LLC, the only international court reporting agency led by court reporters and world-renowned industry experts, provides court reporting, videography, videoconferencing, interpretation, and trial support services throughout the United States and abroad to international law firms, worldwide corporations, and government entities. The Company has extensive experience reporting complex matters around the globe, including arbitrations, trials and depositions. Planet Depos is headquartered in Washington, DC with 60+ offices worldwide. A forward-thinking company, Planet Depos is conversant with the latest technologies and works closely with clients to implement case-winning tools, including streaming text and video, realtime to iPads, mobile videoconferencing, and digital deposition exhibits.
Learn more about Planet Depos at http://www.planetdepos.com
Follow Planet Depos on Facebook: https://www.facebook.com/planetdepos
Follow Planet Depos on Twitter: https://twitter.com/planetdepos
Read our blog: http://planetdepos.com/our-world/
About Chicago-area Realtime & Court Reporting
Since 1973, Chicago-area Realtime & Court Reporting has supported the Northern Illinois legal community and beyond. Driven by a four-generation court reporting legacy, Chicago-area Realtime's court reporters are the industry's top tier, delivering a wide breadth of services with skill, focus, and ethical commitment.
Learn more about Chicago-area Realtime & Court Reporting at
http://www.chicago-realtime.com/index.html
Follow Chicago-area Realtime & Court Reporting on Facebook: https://www.facebook.com/ChicagoRealtime
Contact:
William DiMonte
william.dimonte(at)planetdepos(dot)com
1100 Connecticut Avenue, NW
Suite 950
Washington DC 20036
###