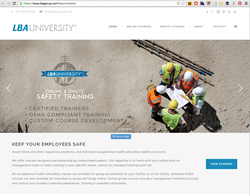 Greenville, NC (PRWEB) January 19, 2015
LBA University, Inc, a unit of LBA Group, Inc., announced the launch of an enhanced website with new safety training options, an improved user experience, and additional knowledge resources. LBA has provided training to over 10,000 students and delivered more than 7,500 courses via online and on-site delivery methods. The website is available at: http://www.lbauniversity.org.
The new digital platform now offers businesses the option of offering OSHA Campus Certification to their employees. OSHACampus 10 and 30 hour training courses are available in an easy to navigate online environment. LBA also offers customers a number of other cost effective and convenient online safety training courses through the new LBAUniversity.org site. Some of these include radio frequency (RF) safety, outdoor safety, and GHS HazCom.
LBA online course offerings are designed and written by credentialed experts. Online group courses also include a management interface to allow managers to track and control their employee's learning experience.
The online safety training platform is an extension of LBAU's on-site and on-campus training options. LBA can work with safety and risk management personnel within an organization to tailor training to specific needs. This customized training is designed and presented by one of LBAU's credentialed experts at a location of the customer's choosing anywhere in the U.S. or at LBAU's Greenville, NC campus.
For more information about the wide variety of safety training options available from LBAU, contact Marketing Coordinator, Stacey Moore at stacey.moore@lbagroup.com or 252-757-0279.
About LBA Group, Inc.
LBA Group, Inc. has over 50 years of progressive innovative experience in providing technology and risk management for industrial and telecommunications infrastructure assets. The company is comprised of LBA University, Inc., providing on-site and online professional training; LBA Technology, Inc., a leading source and integrator of radio frequency systems, lightning protection, and EMC equipment for broadcast, industrial, and government users worldwide; and the professional technical consultancy, Lawrence Behr Associates, Inc. The companies are based in Greenville, N.C., USA.