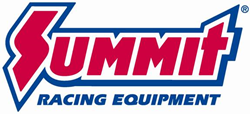 Tallmadge, OH (PRWEB) January 21, 2015
Summit Racing now carries QuickTime's new conversion bellhousing that mates a Ford 3.5L or 3.7L EcoBoost V6 engine to a Tremec or T-5 manual transmission. PowerNation TV's Truck Tech crew used on their 1955 F-100 project. Watch the full episode here.
QuickTime Bellhousings are made from high-grade steel that's been hardened to over 80,000 PSI. That's plenty of strength for drag strip, circle track, and high performance street use. For even more rigidity, the bellhousing cone is spin-formed, not rolled or stamped.
QuickTime also uses laser-cut and CNC-machined components to make installation easy. The increased precision results in a bellhousing centered to within 0.003 inches. That means the transmission will be more stable, decreasing drivetrain wear. QuickTime Bellhousings are designed to be the lightest, strongest, and most accurate bellhousings on the market. Many QuickTime Bellhousings carry SFI-approval.
See QuickTime's Ford Ecoboost to Tremec Conversion Bellhousing at Summit Racing
Summit Racing Equipment
http://www.SummitRacing.com
1-800-230-3030