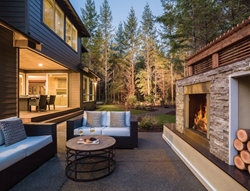 Without question, The Estates at Sugarloaf Mountain makes a statement. It's offering Seattle homebuyers the opportunity to have the best of both worlds.
Seattle, Washington (PRWEB) January 30, 2015
The Estates at Sugarloaf Mountain, the latest new home community from Seattle homebuilder MainVue Homes, is offering homebuyers something they haven't been able to find before in King County – large hillside home sites paired with the architectural appeal of the company's modern aesthetic.
With breathtaking views that showcase the Cascade foothills as well as hillsides rooted with western hemlock, red alder and big leaf maples, the 640-acre gated neighborhood will offer a total of 93 home sites that will range from 2.5 acres to more than 11 acres in size. A total of seven sales have already been recorded in the community's first 30 days.
In addition, the community, which takes its name from the area's 1,490-foot Sugarloaf Mountain, includes more than 250 acres that will be dedicated to preserving open space and providing a natural outdoor recreation space. Residents also have access to the highly regarded Tahoma School District.
With the first phase of home sites already released, new spec homes from MainVue, Curtis Lang and JK Monarch Homes will soon be unveiled, coinciding with the debut of MainVue's brand new model – the Emerald Q1, offering more than 4,000 square feet of modern luxury living space in a breathtaking natural setting.
Any MainVue floor plan can be built at The Estates at Sugarloaf Mountain along with opportunities for buyers to purchase home sites for their own custom builds.
"Without question, The Estates at Sugarloaf Mountain makes a statement," said Vanessa Normandin, president of Henley Properties USA, MainVue's parent company. "It's offering Seattle homebuyers the opportunity to have the best of both worlds – contemporary home designs and home sites large enough to preserve the peace and tranquility of the surrounding community."
But it's not just the spacious home sites that set The Estates at Sugarloaf Mountain apart. The community is also the first "large lot" community of its kind with a road design that treats and distributes storm-water runoff through the use of LID porous pavement to protect groundwater quality. The expansive home sites are also permit-ready and feature public water from Covington Water District as well as pre-approved septic systems.
Shopping, dining and retail is available at the newly expanded Four Corners commercial center in Maple Valley while recreational opportunities like Lake Retreat and Ravensdale Retreat Natural Area surround the community, offering access to parks, rivers, lakes, trails and campsites.
The Estates at Sugarloaf Mountain is located at the intersection of 316th Ave SE & SE Kent Kangley Road in Ravensdale. For more information on The Estates at Sugarloaf Mountain, please visit http://www.estatesatsugarloaf.com.
About MainVue Homes
Proven by its practices and dynamic by design. This trusted combination is just part of the reason MainVue Homes is a worldwide leader in premiere residential design and construction. As part of the internationally respected Henley Properties Group, MainVue Homes is a proud partner of the Sumitomo Forestry Group, a venerable corporation with its own rich 320-year heritage. This global relationship now builds 13,000 homes a year in Australia, Japan and the United States. Using this international buying power, MainVue gives its customers access to the latest home designs at the best value. For more information, please visit http://www.mainvuehomes.com.