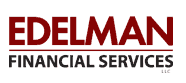 Fairfax, VA (PRWEB) January 20, 2015
Edelman Financial Services, one of the nation's most prominent financial planning and investment management firms,(1) has named Rene Chaze its new Chief Operating Officer. The announcement was made by Chairman & CEO Ric Edelman following an eight-month search. Chaze, a three year veteran of the company, is currently the firm's Chief Financial Officer. He will maintain dual roles during a transition period, eventually relinquishing the CFO title.
"Rene has proven to have outstanding judgment, acute understanding of the intricacies of our business, an outstanding relationship with his colleagues and an intense commitment to the firm's success," Edelman said. After retaining a top Wall Street recruiting firm, considering more than 50 candidates and interviewing a dozen – including highly experienced executives from both within and outside the financial services industry – Edelman concluded that no candidate was able to match Chaze's skills and experience.
Edelman added that the firm is still engaged in a search for a CEO so he can focus on the firm's strategic direction and, most importantly, its clients. "There's nothing more important than the financial planning and investment management services we deliver to our clients," Edelman said. "Adding a CEO to run the firm day-to-day will allow me to make sure our clients are getting everything they need, want and expect."
About Rene Chaze
Chaze joined Edelman Financial Services in 2011 as Vice President of Business Development to work closely with the executive team on strategic initiatives and priority growth programs and was then promoted to CFO in 2013. Prior to joining Edelman, he was with Ernst & Young LLP for 20 years, including nine years as a Partner. Chaze is a Certified Public Accountant actively licensed in Maryland and Virginia and is a registered representative with Sanders Morris Harris Inc. He received a BS from Louisiana State University, an MT from The University of Denver (Sturm College of Law & Daniels College of Business) and an MBA from The Wharton School of the University of Pennsylvania.
About Edelman Financial Services
Edelman Financial Services provides financial planning and investment management services for individuals and families, as well as 401(k) plans and institutional investment management for businesses. The firm has won more than 100 financial, business, community and philanthropic awards.(2) For investment advice and other financial planning services, or to speak with an advisor, call 888-PLAN-RIC (888-752-6742) or visit EdelmanFinancial.com.
--------------------------------------------------------------------------------------------------------------------------------------
Ric Edelman is Chairman and CEO of Edelman Financial Services LLC, a Registered Investment Advisor, and CEO, President and a Director of Pinnacle Summer Investments Inc. He is an Investment Advisor Representative who offers advisory services through EFS and a Registered Principal of (and offering securities through) Sanders Morris Harris Inc., an affiliated broker/dealer, member FINRA/SIPC.
(1) WealthManagement.com's 2014 Top 100 RIAs are ranked by assets under management based on data from Meridian-IQ. For each firm, at least 10% of clients are high-net-worth, and at least 10% are not but get financial planning; institutional clients cannot comprise substantial part of business. Investor returns were not considered. Edelman Financial Services ranked 3rd.
(2) Throughout the firm's 25 year history, EFS and Ric Edelman have been presented with more than 100 business, advisory, communication and community service awards. A complete list of awards won can be requested by contacting the firm at (888)-PLAN-RIC.