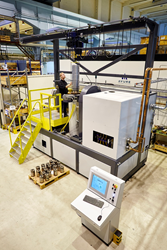 The Application Center allows us to collaborate with component fabricators in areas such as additive manufacturing, MIM, and investment casting. --Jan Söderström, Avure CEO
Västerås, Sweden (PRWEB) January 21, 2015
Avure Technologies, the leading manufacturer of ultra-high pressure systems, has established an Application Center to assist fabricators utilizing advanced materials in the development of hot and cold isostatic pressing applications.
The state-of-the-art facility, adjacent to the Avure manufacturing plant, is equipped with two Hot Isostatic Presses (HIPs) and one Cold Isostatic Press (CIP). Avure HIP technology produces parts with excellent isotropic material properties, offering the highest possible density of all available compaction methods.
"The Application Center allows us to collaborate further with component fabricators in areas such as additive manufacturing (3D-printing), metal injection molding (MIM), and investment casting to ensure they select the best pressing systems to match their needs," comments Jan Söderström, CEO of Avure Technologies AB. "We can help them verify their fabrication processes and determine parameters for cycle optimization before they go into full-scale production."
Currently hosting projects related to densification (defect healing) and the removal of residual porosity in investment casting, the Application Center provides the opportunity to evaluate the latest in HIP technology, for instance, quenching under full pressure.
"Traditionally, HIP has been used for densification, but the trend is now to combine densification with solution treatment, quenching, ageing, and/or other heat treatment processes in the same cycle," explains Avure's Peter Henning, Business Unit Director-AMD. "This leads to significant savings in lead-time, improved product quality, and lower costs and energy savings resulting from fewer transports and re-heating."
Recognized for extreme safety, high reliability, and exceptional efficiency, Avure HIPs offer expanded processing parameters to encompass greater pressures, higher temperatures, and growing capacities. The Application Center CIP has a working pressure up to 12,000 bar (174,000 psi), while the HIPs have a working range up to 2070 bar (30,000 psi) and 2000°C (3632°F). These presses are equipped with either the Uniform Rapid Cooling (URC) or Avure's proprietary Uniform Rapid Quenching (URQ) capability, which permits cooling rates of >3000°C (5432°F) per minute to be achieved.
"Having a well-equipped center for testing has proven to be a very powerful tool in discussions with prospective adopters of HIP technology," Henning points out. "Additionally, we offer services to evaluate the chemical composition, porosity, and mechanical properties of materials after testing."
With vigorous development of new manufacturing techniques in the HIP arena—such as near-net shape for powder metallurgy, MIM, and especially additive manufacturing—Henning expects the Avure Application Center to become an integral part of component fabricators' process optimization and testing. "It will be an important, cost-effective step before parts manufacturers invest in new equipment or enter full-scale production," he says.
When not engaged in customer testing, the Center capacity is used for university or research institute projects exploring new HIP applications.
Avure will be exhibiting at the NEWCAST trade fair for precision castings in Dusseldorf, Germany, June 16-20, at Hall 14 A02.
About Avure Technologies AB
An innovator with a strong record of accomplishment, Avure Technologies (formerly known as ASEA, ABB, and Flow) demonstrates its expertise in high pressure by occupying a leadership position in industrial applications. The company is the largest global provider of ultra-high pressure systems utilized to process advanced materials and to form sheet metal.
Avure has installed over 1,700 high-pressure systems worldwide, more than all other competitors combined. These systems are characterized by technically sound design, superior reliability, energy efficiency, low maintenance costs, and many years of experience. Many Avure presses have been in service for more than 40 years, and some have surpassed 1 million high-pressure processing cycles.
Avure Technologies AB headquarters in Västerås, Sweden, house equipment design, manufacturing, and support operations, along with a new Application Center. Additional facilities are located in Columbus, Ohio, USA, with regional sales and support offices around the globe. Read more about Avure Technologies at: http://industry.avure.com.