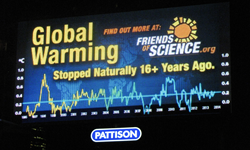 it is crucial that the IPCC and 'climate change' policies be open to question
Calgary, Alberta, Canada (PRWEB) January 22, 2015
Friends of Science are reporting that in Europe, the authors of "Climate: 15 Truths/Climat:15 vérités qui dérangent" issued a communiqué on Jan. 12, 2015, the English Version posted here as reported January 16, 2015 in the Dagelijkse Standaard of the Netherlands regarding their concerns over future candidates for chair of the Intergovernmental Panel on Climate Change (IPCC), and their desire for open debate on global warming.
Spokesman for the group of Europeans, Drieu Godefridi, author of the 2010 book "The IPCC: a Scientific Body?" points out that developing nations are pushing for a Green Climate Fund.
"This fund may be unnecessary, based on the current stagnation of warming, despite a rise in carbon dioxide," he said, referring to 18 years stagnation a report in Forbes Feb. 24, 2014."
The Green Climate Fund will cost billions to Western nations, with President Obama already committing $3 billion. Senator James Inhofe said he strongly objects to handing "precious taxpayer dollars to unelected bureaucrats at the UN" in his statement issued Nov. 14, 2014
As reported in the Financial Post on May 13, 2013 in an article by Dr. Benny Peiser entitled "Europe's Green Hell" radical climate change policies, stemming from IPCC reports and forecasts, have led to wide-spread 'heat-or-eat' poverty in the UK and EU. Peiser also reported that national economies have been devastated and industry decimated by 'low-carbon' targets, with no benefit to the environment.
"Thus it is crucial that the IPCC and 'climate change' policies be open to question," says Godefridi.
The European communiqué opposes attempts to silence those who question climate science issues, referring to a contentious public debate on Belgian television on the theme of "Climate Science - "Religion or Science" RTBF on Sept. 29, 2013.
One of the signatories to the communique - eminent chemist Istvan Marko of the Université Catholique de Louvain - disputes the role of carbon dioxide (CO2) in global warming. The Université is signatory to the Magna Charta Universitatum, signed by 776 universities from 81 countries in defense of the principle of "Academic freedom is the foundation for the independent search for truth and a barrier against undue intervention for both government and interest groups." Marko shares the Friends of Science position that the sun is the main driver of climate change, not CO2.
The IPCC has been subject to much criticism of late, ranging from the Dutch demand for an overhaul of the IPCC, exposure of inflated or incorrect IPCC statements, and calls by Dr. Judith Curry of Georgia Tech for the IPCC to be shut down entirely, reported Sept. 20, 2013 in Nature World News.
Godefridi said: "In light of recent tragic events in Europe with the murder of satirists at Charlie Hebdo on as reported Jan. 7, 2015 in the New York Times, freedom of speech must certainly extend to freedom of scientific inquiry."
"With the evidence of no global warming in 18 years, climate change science must be openly debated, " says Godefridi. These sentiments are shared by Friends of Science.
Signatories of the communique include: Anne Debeil, Civil Engineer Chemistry, Drieu Godefridi, Lawyer, Doctor of Philosophy, Essayist; Henri Lepage, Economist; Istvan Marko, PhD Chemistry; Henri Masson, Civil Engineer, Doctor in Applied Sciences; Lars Myren – Civil Engineer Chemistry; Alain Preat, Doctor of Geology.
About
Friends of Science has spent a decade reviewing a broad spectrum of literature on climate change and have concluded the sun is the main driver of climate change, not carbon dioxide (CO2). The core group of the Friends of Science is made up of a growing group of Earth, atmospheric, astrophysical scientists and engineers who volunteer their time and resources to educate the public.
Friends of Science Society
P.O. Box 23167, Mission P.O.
Calgary, Alberta
Canada T2S 3B1
Toll-free Telephone: 1-888-789-9597
Web: friendsofscience.org
E-mail: contact(at)friendsofscience(dot)org