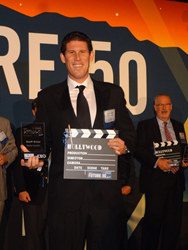 'It's truly an honor to be recognized for all of the hard work our team puts in on a daily basis,' said Gross. 'But the best part of our day is knowing that we're making a difference in someone's life every time we make a sale.'
Philadelphia, PA (PRWEB) January 27, 2015
Philadelphia Smart CEO Magazine has identified the Future 50 Companies that are on the fast-track to success. Among the winners? Medical Guardian CEO, Geoff Gross.
According to Smart CEO Magazine, "This year's crop of winners were recognized based on their exceptional employee and revenue growth, but also because we believe they have the potential to be the backbone of Philadelphia business for decades to come."
Gross attributes the success of Medical Guardian to the family atmosphere he's created for employees in his Center City, Philadelphia office. "The family isn't always going to get along," said Gross. "But it's important that they are working together to accomplish the same goals."
Gross decided to launch Medical Guardian out of his apartment in 2005, after his grandmother had experienced several falls and needed help at home. He saw the opportunity to build a better, more innovative medical alert device company than what was on the market and sold the first 2,500 systems himself. Spending countless hours on the phone with seniors and their loved ones, Gross was able to get a real feel for what people were in need of and he delivered.
By 2013, Gross moved his fast-growing team into a large office on Market Street in downtown Philadelphia. Medical Guardian's growth has earned them spots on the Philadelphia 100 and Inc. Magazine's Fastest Growing Companies In America List for two years in a row.
"It's truly an honor to be recognized for all of the hard work our team puts in on a daily basis," said Gross. "But the best part of our day is knowing that we're making a difference in someone's life every time we make a sale. It makes you feel good about what you do everyday."
Medical Guardian now offers a wide range of product options to satisfy every lifestyle and budget. To view their full product line along with videos featuring their new spokesperson, Florence Henderson, visit the Medical Guardian website: http://www.MedicalGuardian.com
####
Medical Guardian is a leading provider of Personal Emergency Response Systems (PERS) and has helped provide peace of mind to thousands of older Americans and their loved ones. From the beginning, Medical Guardian's mission has been to provide seniors with access to affordable and reliable senior alert systems. Across the country, people now enjoy a renewed sense of independence, and their loved ones have the peace of mind knowing that help is always just a push of a button away.