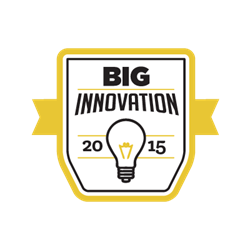 Our winners have stood above their competition and differentiated themselves in today's business market with some pretty incredible products and services. Congratulations to all of the 2015 winners.
Philadelphia, PA (PRWEB) January 22, 2015
Judges have deliberated and made their picks for the 2015 BIG Innovation Awards. These innovations are making major impacts in today's world. The winning organizations have led the way to new advancements and dramatic accomplishments in a variety of fields.
And the 2015 BIG Innovation Award winners are . . .
AfterShokz
AfterShokz's Bluez 2 wireless bone conduction headphones are known for prioritizing safety and situational awareness through their unconventional OpenFit™ design.
Anki DRIVE
Anki DRIVE is a first-of-its-kind battle-racing game that lets players use a mobile app to race and customize real battle-equipped cars—alone or in competition with friends.
Attunity
Attunity offers innovative software solutions to help companies move large volumes and high velocities of big data quickly and easily for use in improving their businesses.
The Barton Group
SqueezyStraw, a patented packaging technology, produces the lowest-cost tamper-proof and single-serve pack on the market, with its own integral dispensing feature.
CloudLock
CloudLock offers the cloud security fabric enabling enterprises to protect their data in the cloud, reduce risk, achieve compliance, manage threats, and increase productivity
Engeenuity
Engeenuity uses the Advanced Physics System Engineering (APSE™) process, a revolutionary technology that affects processes in the complex structure of biological systems.
Feedvisor
Feedvisor is the world's first fully algorithmic repricing and business-intelligence platform, offering e-commerce marketplace sellers a way to keep prices competitive in real time.
Foxit Software
Foxit PhantomPDF Business provides one of the most functional, secure, collaborative, and affordable PDF solutions on the market.
Ignite Sales
The Ignite Sales Profitability Dashboards for OmniChannel Measurement are a cloud-based analytics solution that does just that – they give banks unparalleled detailed visibility into channel performance.
Keurig Green Mountain
Keurig® 2.0 is the first Keurig® brewer to brew both a single cup and a carafe of coffee.
MagnaCom
Magnacom is a recognized technology-innovation powerhouse that has reinvented the evolution of digital communications with WAM™—a vastly superior, patented new modulation for the 21st century.
Maxta
Maxta's software-defined storage fully realizes the promise of hyper convergence, providing improved VM-centric automation, simplified data protection, greater availability and resiliency, and improved self-healing capabilities.
Nu Skin Enterprises
Nu Skin Enterprises Pharmanex Biophotonic S3 Scanner empowers users to track improvements to their skin as they make changes to their diet and lifestyle.
Red Ant
Red Ant's RetailOS is a connected experience platform that joins up all of a user's devices and touch points to deliver a seamless shopping experience.
Skyonic Corporation
Skyonic's technology captures greenhouse gases before they are released, turning these potentially harmful emissions into usable products that are both beneficial for the environment and profitable for business.
UnitedHealthcare
UnitedHealthcare Baby Blocks® is a mobile, interactive incentive program designed to improve the health and well-being of expectant mothers, new parents, and their babies.
Worldnow
Worldnow's Studio Gateway is the only CMS agnostic platform that connects legacy studio systems with digital content-management systems to distribute content across linear and digital screens simultaneously.
"This year's winners have once again blown their competition out of the water with some very commendable achievements in their respective market space," said Russ Fordyce, managing director of the Business Intelligence Group. "Our winners have stood above their competition and differentiated themselves in today's business market with some pretty incredible products and services. Congratulations to all of the 2015 winners."
For a complete list of winners and finalists, visit http://www.bigawards.org.
About the Business Intelligence Group
The Business Intelligence Group is the first open-source industry awards program to devote itself to the recognition of authentic talent and superior performance in the business world. Unlike other award programs, the Business Intelligence Group programs invite real business people with experience and knowledge to serve as judges. The organization's proprietary and unique scoring system selectively measures performance across multiple business domains and rewards companies whose achievements stand above those of their peers.