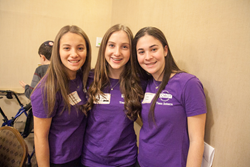 "We are a better and stronger community when people of all ages are engaged with one another."
Washington, DC (PRWEB) January 23, 2015
Generations United has proudly announced that DOROT's Youth Volunteer Programs have been re-designated a Program of Distinction within the intergenerational community.
"We congratulate DOROT's Youth Volunteer Programs for earning this distinction and their dedication to intergenerational practices," said Donna Butts, executive director of Generations United. "The Program of Distinction designation is the U.S. 'seal of approval' for intergenerational programs. The application and review process are rigorous. Achieving this recognition is a major accomplishment and says a program employs best practices and effectively serves the surrounding community."
DOROT's Youth Volunteer Programs mobilize volunteers of all ages to improve the lives of the elderly. The programs engage youth in volunteer activities within an educational framework, increase their sensitivity to the needs of the elderly, and further their commitment to service.
"We are greatly honored by Generation United's recognition of DOROT's Youth Volunteer Programs as a 'Program of Designation' and applaud their work to bring national recognition and awareness to the importance of intergenerational programs," says Mark Meridy, Executive Director of DOROT. "We are a better and stronger community when people of all ages are engaged with one another."
Generations United launched the Program of Distinction designation in 2010, with support from New York Life Foundation, to recognize excellence while celebrating the rich diversity among intergenerational programs. This year, nine intergenerational programs from across the nation earned the distinction. Joining DOROT's Youth Volunteer Programs at DOROT are VISIONS Intergenerational Program at VISIONS/Service for the Blind and Visually Impaired, Time Out Respite Program at The Intergenerational Center at Temple University, Neighbors Growing Together at Virginia Tech University, CATCH Healthy Habits at OASIS, JCA Heyman Interages Center, Age to age: bringing generations together at Northland Foundation, DOROT's Youth Volunteer Programs at DOROT, The Great Friendship Link at Sunshine Care Assisted Living Homes and Together Transforming the Experience of Aging at Kendal at Oberlin.
About Generations United: For nearly three decades, Generations United has been the catalyst for policies and practices stimulating cooperation and collaboration among generations, evoking the vibrancy, energy and sheer productivity that result when people of all ages come together. We believe that we can only be successful in the face of our complex future if generational diversity is regarded as a national asset and fully leveraged.
http://www.gu.org
About DOROT: DOROT alleviates social isolation among the elderly and provides services to help them live independently as valued members of the community. We serve the Jewish and wider community, bringing the generations together in a mutually beneficial partnership of elders, volunteers and professionals. Our work provides an effective model for others.
http://www.dorotusa.org