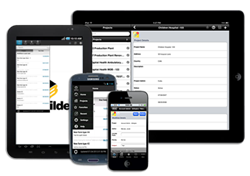 The rapid advances in mobile technology are creating renewed interest within the construction industry to deploy software and tools
Plantation, FL (PRWEB) February 10, 2015
e-Builder, the pioneer in fully integrated, cloud-based construction management software for owners, is seeing unprecedented acceleration in the adoption and use of its mobile technology. Mobile apps have become increasingly important to the construction industry—enabling users to improve capital project execution by becoming more efficient by accessing and acting on information directly from the field.
"The rapid advances in mobile technology are creating renewed interest within the construction industry to deploy software and tools," said Ron Antevy, CEO of e-Builder. "The construction industry is the second largest industry in the world, and for many years it has been reluctant to adopt new technology. Mobile tools are causing more industry professionals to adopt technology faster and we've witnessed this first hand within our user community."
Dating back to 2006 with an app for the Blackberry, e-Builder has always been an early innovator of native mobile applications as part of its e-Builder Enterprise construction management software suite. In 2011, e-Builder Mobile apps for Apple® and Android® devices were launched and each year the feature set is expanded. Today these tools offer e-Builder Enterprise capabilities within a mobile device as well as specific applications to manage field processes in an intuitive and easy to use way. The e-Builder Mobile app is designed to streamline field processes such as inspections, daily job site reports, and facility commissioning.
e-Builder has seen adoption of its mobile technology grow steadily since 2012 but in the last 12 months, adoption has significantly increased. This industry trend is supported by a recent Box, Inc. study titled "The Information Economy: A Study of Five Industries." The Box study found that:
•Construction firms have the highest rate of work shared with outside companies. Double the rate of any other industry.
•To successfully deliver a construction project, information must be shared with a wide audience – across companies.
•Project documents move between companies and people from the office to the job site.
At University of Texas Southwestern, the e-Builder Mobile app has been instrumental in changing the way projects are executed. "The mobile app has enabled us to improve our efficiency in inspecting buildings," said Guillermo Ramos, Director of Capital Improvement Projects for UT Southwestern. "Prior to the mobile app, inspections were required to be documented on a check list and then that list would be given to a secretary to document in e-Builder. Now the inspectors document the results efficiently in real-time and without having to count on anyone else to record the results. The inspection data is more accurate and the process is more efficient."
e-Builder Enterprise improves project execution resulting in increased productivity, reduced cost and faster project delivery. Clients typically realize savings of 1-4 percent on their capital projects. "It has always been our goal to develop innovative technology solutions to improve capital project outcomes. We continuously develop new and enhanced capabilities and our mobile tools represent just one step toward that goal," said Antevy.
About e-Builder
e-Builder is the leading provider of integrated, cloud-based construction program management software for top facility owners and the companies that act on their behalf. The company's flagship product, e-Builder Enterprise, improves capital project execution, resulting in increased productivity and quality, reduced cost, and faster project delivery. Since 1995, e-Builder's technology leadership and construction industry focus has provided thousands of global companies, government agencies, and healthcare and educational institutions managing billions of dollars in capital programs with solutions to improve the plan, build, and operate lifecycle. The company is privately held and headquartered in Fort Lauderdale, Florida. For more information, visit http://www.e-Builder.net.