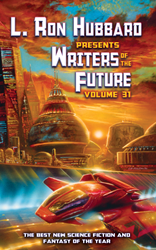 Hollywood, CA (PRWEB) January 22, 2015
Bob Eggleton is a founding judge for the Illustrators of the Future Contest, now in its 26th year. Eggleton has won the Hugo Award for Best Professional Artist eight times. He also won a Hugo for Best Related Book for his book "Greetings From Earth." He has won the Chesley Award for Artistic Achievement and was the Guest of Honor at the ChiCon 2000 world science fiction convention.
Writers of the Future Volume 31 will be released at the gala awards ceremony to be held April 12, 2015 at the famous Ebell Theatre in Los Angeles. For more information and to reserve tickets for the ceremony, contact the Contest Administrator, Joni Labaqui, at jonil@authorservicesinc.com.
Inspired by best-selling author L. Ron Hubbard, the merit-based Writers of the Future writing contest was initiated 31 years ago to discover and encourage talented beginning writers of science fiction and fantasy. The Contest was later expanded to include illustrators whose winners have also gone on to successful illustration and design careers.
For information on how to enter the contests, go to http://www.writersofthefuture.com.