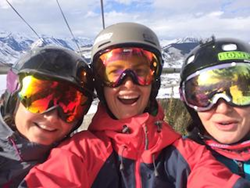 Gunnison-Crested Butte, Colorado (PRWEB) January 22, 2015
There is a lot of winter left for snowy fun in Crested Butte, "Colorado's Last Great Ski Town" and one of Budget Travel's 2015 finalists for 15 Coolest Small Towns in America. The Gunnison-Crested Butte Tourism Association has come up with two stellar deals for travelers booking nonstop flights into the Gunnison-Crested Butte Regional Airport between now and the end of ski season. It's the perfect chance to sample the miles of beginner and intermediate trails, experience the best extreme terrain in the lower 48, and enjoy all sorts of outdoor and cultural activities in a vibrant community.
Two Outstanding Deals
A $99 Companion Fare is being offered when buying one round-trip air ticket at full price for arrival into the Gunnison-Crested Butte Regional Airport between February 27 – March 5, 2015 or March 20 – April 6, 2015. Air itinerary must include at least one segment that is non-stop Houston (IAH), non-stop Chicago (ORD) or non-stop Dallas (DFW) on United Airlines or American Airlines. One leg of the trip can go through Denver International Airport (DEN). Receive a second roundtrip ticket for the same flights for only $99, after up to a $400 air credit is applied. This deal is available while supplies last and must be booked by calling Crested Butte Vacations at (844) 262-2289. No lodging purchase is required. A $10 per ticket booking fee is charged by CBV.
Another great incentive to play in the snow is Lift Ticket to Fly, providing one day of free skiing (a $107 value for adults) at Crested Butte Mountain Resort for each person on the air itinerary. The deal is valid for roundtrip flights into Gunnison-Crested Butte Regional Airport (GUC) via non-stop Houston (IAH), Chicago (ORD) and Dallas (DFW) flights with an arrival date between January 14 – April 4, 2015, except for March 5 – 19, 2015. One leg of journey may go through Denver (DEN). To qualify, airline tickets must be purchased after January 15, 2015. The origin of the ticket purchase can be a travel agent, united.com, aa.com or other online booking sites, and the offer does not apply to non-revenue airline tickets such as frequent flyer tickets.
To receive the Lift Ticket to Fly deal, travelers must fill out a simple online form at least 48 hours before arrival date but are advised to do so immediately after booking as supply is limited. Guests then receive an email with instructions about how to pick up the free lift tickets at Crested Butte Mountain Resort.
Vacation Packages & Visitor Information
To save on flights, hotel rooms, other vacation packages, car rentals and more, go to http://www.VisitGCB.com. For travel planning and general information, also call (800) 814-8893 and follow GCBTA event promotions on Facebook at http://www.facebook.com/gcbta.
About Gunnison-Crested Butte, Colorado
Nestled in a valley with nearly two million acres of pristine, mountainous wilderness, Gunnison-Crested Butte has a prime location in southwest Colorado. Winter sports enthusiasts know the area for its world-class alpine skiing and snowboarding at Crested Butte Mountain Resort, cross-country skiing, ice fishing and more. Fair-weather activities include mountain biking, hiking, wildflower and wildlife viewing, climbing, boating, whitewater rafting, kayaking, fly-fishing, camping and horseback riding. Year-round visitors enjoy distinctive restaurants, locally owned shops, stimulating cultural opportunities and festivals and sporting events galore ranging from Crested Butte Music Festival and Alley Loop Nordic Marathon to Gunnison River Festival and Night of Lights.
Along a 31-mile stretch of wide-open vistas and stunning scenery, visitors can explore Gunnison, Almont, Crested Butte and Mt. Crested Butte and connect with the quaint and historic burgs of Pitkin, Gothic, Tin Cup, Marble, Powderhorn and Crystal, also located in Gunnison County. Gunnison and Crested Butte, both founded in 1880, are known for their Victorian-era charm, friendly Western hospitality and free-spirited nature. Almont is a fishing, rafting and rock climbing mecca, and the resort village of Mt. Crested Butte is home to renowned Crested Butte Mountain Resort. Visitors also can explore Curecanti National Recreation Area, home to Colorado's largest body of water, and the nearby Black Canyon of the Gunnison National Park. Gunnison County is part of the West Elk Loop and Silver Thread Scenic & Historic Byways.
Gunnison-Crested Butte is conveniently located in southwestern Colorado, a scenic 4-hour drive from Denver via U.S. Highway 285 or a 3½ hour drive from Colorado Springs on U.S. Highway 50. Air service to the Gunnison-Crested Butte Regional Airport (GUC) for is provided year round by United Airlines with non-stop service from Denver (DEN) and winter non-stop service from Houston (IAH) and Chicago (ORD). American Airlines offers winter non-stop service to Gunnison from Dallas (DFW). http://www.Fly2Gunnison.com.
[###]