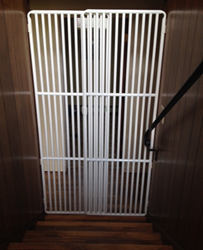 I love that my cats can't jump over this I have the highest one. Totally acceptable for keeping pets out of unwanted places. Totally recommend people to buy.
Prescott, Arizona (PRWEB) January 30, 2015
The Rover Tall Pet Gate stands 48in. high and can expand to 5 or 6 ft. tall just by utilizing additional clip-on extensions. Rover's tallest pet gate is infinite in its expansion capabilities, ranging from 24in. to 42in. in width and by adding additional clip-on gate extensions can expand to fit any area or doorway. The Rover Tall Pet Gate is simple to install, requiring only a few minutes and a Phillips screwdriver. Once installed, it takes only seconds to remove for storage or use in another location. Our Tall Pet Gate can be configured for a right or left opening, opens with just a pull and swings entirely clear of the opening or doorway for easy access. The Rover Tall Pet Gate was designed for the safe containment that your pet needs and deserves.
The Rover Tall Pet Gate is made entirely of heavy duty, industrial strength vinyl coated PVC which offers unmatched strength, durability and material that will not rot, rust, peel, flake, and splinter or hold odor, and can be easily cleaned with bleach or your favorite pet friendly disinfectant. This vinyl coated PVC is extremely slippery, allowing no traction for those pets that like to climb. With 3/4in. spacing between the vertical bars, it keeps the majority of animals from squeezing through the spaces. Also, 90% of all dogs and cats cannot jump over the Rover Tall Pet Gate. Rover Company is proud to offer the world's tallest pet gates for owners of all types.
Rover Company has the solution for controlling the access points for pets! Rover Company has been manufacturing pet products since 1988 in Prescott, Arizona. 100% of Rover Company products are manufactured in the U.S.A. and are only available online at http://www.roverpet.com.
John Picha - V.P. of Sales - john(at)roverpet(dot)com
Rover Company - 20 Kiji Dava Circle Prescott, Az. 86301