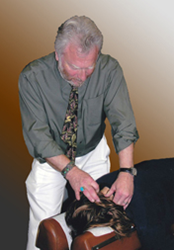 "No matter what medical so-called authorities may claim, in the last 50 years, children are far sicker than ever because of extreme medical intervention."
Corte Madera, CA (PRWEB) January 27, 2015
Dr. Don Harte, noted Marin straight chiropractor, is warning the public about unethical and unscientific fear tactics regarding the Disney measles outbreak.
"Right up front," Dr. Harte says, "parents need to be told that measles is not a deadly disease, though it has been painted as such by unscrupulous vaccine pushers. There are plenty people old enough to remember when just about every child got measles, and no one died. I have seen a clip of a well-meaning but confused mother talking about the 'tragedy' of measles. It's a childhood disease…not a tragedy. Research has shown that exposure to childhood diseases confers a certain amount of protection to cancer. Childhood diseases help further develop a child's immune system.
"'Public health' officials," according to Dr. Harte, "are creating a panic over the measles outbreak from Disney Land, attempting to stigmatize the anti-vaccination movement. Media sources have even referred to Orange County, California, the location of Disney Land, as a 'hotbed of the anti-vaccine movement.' The languaging, itself, is offensive, and suggestive of being unscientific. Rather. it is the pro-vaccination 'authorities' who are distorting science for their own ends."
Many outbreaks of measles and other diseases have been documented in fully-vaccinated populations. "Part of the problem," says Dr. Harte. "is that vaccination, itself, bypasses the normal pathways of natural immunity. And the whole concept of herd immunity is a fiction. Either vaccines work or they do not. Can't have it both ways."
Dr. Harte sees considerable danger from vaccines. "The MMR (measles, mumps, rubella) vaccine, along with other vaccines, has been associated with extreme side effects, from asthma to Type I diabetes to learning disabilities to autism. No matter what medical so-called authorities may claim, in the last 50 years, children are far sicker than ever because of extreme medical intervention. The biggest change has been the number of vaccinations, from four or five, to now 70+ vaccinations by the first grade. Besides questionable biological material, every vaccine contains potent neurotoxins, including aluminum, mercury and formaldehyde."
Dr. Harte's advice to parents? "Because 'the pediatrician says so' doesn't make it right. Think for yourself! You cannot have a healthy child if he or she is continually poisoned by vaccines. What to do? Make sure they eat right, and, most importantly, free their immune systems by freeing their nervous systems through regular, wellness chiropractic care. Instead of fighting disease, pursue health!"
Dr. Don Harte, former medical student, is a straight chiropractor serving Marin and the Greater San Francisco Bay Area since 1981. He is an activist in the struggle for free speech for chiropractors. Dr. Harte was named 2006 "Chiropractor of the Year" by the World Chiropractic Alliance (WCA). He has served on the Boards of the WCA and the Council on Chiropractic Practice. His articles have been published in OMNI magazine, San Francisco Chronicle, Chiropractic Journal and Journal of the California Chiropractic Association.