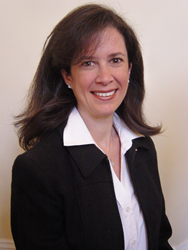 "It's time for a new leadership culture. We must embrace the capabilities of all workers."
MIAMI, BEACH, Fla. (PRWEB) January 25, 2015
The Network of Executive Women launched a new movement for women's leadership and workplace change at the Food Marketing Institute's Midwinter Executive Conference here. NEW unveiled the "It's Time" campaign to a group of industry leaders, urging them to advance more women leaders in the retail and consumer goods and services industry, and to a create "a more flexible, collaborative, inclusive and authentic workplace for everyone."
NEW President and CEO Joan Toth hosted the one-hour briefing, which featured calls to action by NEW Board Member Amy Hahn, senior vice president of marketing for Ahold USA, and NEW Marketing Chair Lisa Walsh, senior vice president of PepsiCo Sales for PepsiCo Inc. The briefing was anchored by Kevin Coupe, founder and content guy for MorningNewsBeat.com.
"A lot's changed since NEW got its start at FMI Midwinter 14 years ago," Toth said. "NEW has grown from a handful of pioneers into one of the largest organizations in the industry, with 9,000 members, 750 companies, 100 corporate partners and 20 regions. But despite our best efforts, despite your best efforts, the number of women leaders in the industry has improved only marginally, if at all," Toth told the executives. "Women make up half the retail industry's workforce but less than 1 in 5 corporate officers and 1 in 20 CEOs."
"Women are not the problem," she said. "Men aren't the problem, either. We need to transform our organizations and create a better workplace for everyone." Toth pointed out that women's leadership was not just a workplace issue, but a marketplace issue, since women consumers control 70 percent of household spending and make or influence 93 percent of all food purchases.
PepsiCo's Lisa Walsh unveiled the Network's mission, "To advance women, grow business and transform our industry's workplace through the power of our community," and its new vision, "a workplace with no limits."
Walsh introduced the "It's Time" movement by saying, "It's time for a new leadership culture. One that's less rigid and more flexible. Less authoritative and more collaborative. Less conformist and more diverse. More authentic and less impersonal. Women need it. Millennials want it. The times demand it." To prosper, the industry must embrace the capabilities of all of its workers: "Young and old, black and white, Hispanic and Asian, native born and immigrant, gay and straight," she said.
Amy Hahn of Ahold USA said, "NEW is the expert on women's leadership in our industry. You are the expert on your company. Together we can make extraordinary things happen in our industry." Hahn said the issues involved in advancing women are complex but not impossible. "From the Arab Spring to Air BNB, we continue to be astonished by the change that's possible when we harness the power of individuals working together," she said. "That is what the Network hopes to facilitate. Starting today, starting right in this room, starting with you."
Hahn urged the executives to urge their male leaders to become advocates for women's leadership and to join the Network. "Women's leadership is not a women's issue, it's a business issue, and our Movement requires the active participation of men to succeed."
To help executives transform their organizations, NEW is rolling out four new programs: the NEW Executive Institute, an intensive 12-month leadership development program for emerging executives; NEW Career Accelerator, a career model and assessment tool that will help companies benchmark and improve leadership skills of their high-potential leaders; and two new skills-building webinar series, Innovation You and the Multigenerational Leadership Course.
Coupe opened the briefing by testing the leaders' knowledge of women's leadership. The answers revealed that women are not only better educated than men, but the public rates women higher on most leadership traits. "Think about that for a second," he said. "Men score less and yet they get more jobs." He closed the briefing with a question-and-answer session and taped interviews with industry leaders for later distribution on the Network's new "It's Time" engagement website at newonline.org/itstime.
ABOUT THE NETWORK OF EXECUTIVE WOMEN
The Network of Executive Women is the retail and consumer products industry's largest women's leadership organization, with 9,000 members representing 750 companies. The Network has 100 national sponsor companies and 20 regional groups in the United States and Canada. It hosts more than 100 local events and two national conferences each year. For more information visit newonline.org.