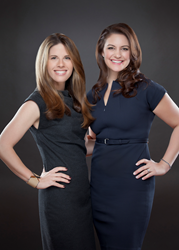 We look forward to making this our most successful Gala ever
GREENWICH, CT (PRWEB) January 28, 2015
Lyme Research Alliance (LRA) & Tick-Borne Disease Alliance (TBDA) have announced that Greenwich residents Amy Marisa Balducci and Riann Smith will co-chair the 2015 "Time for Lyme" Gala on April 11, 2015, at the Hyatt Regency Greenwich in Old Greenwich, CT.
Both Balducci and Smith said they are honored to co-chair the event and hope to raise awareness about the devastating impact Lyme disease can have on individuals and their families—something each of the women has personally experienced.
In 2004, Balducci was on her honeymoon with husband, Charles, when he became ill and nearly lost his life due to Lyme disease. "It was horrible," she said. "No one could figure out what was wrong with him. We came back home, he was immediately put in intensive care and, luckily, a doctor realized there was a chance he had Lyme. He was treated aggressively and made a full recovery, but it wasn't easy. So much suffering could have been avoided if he had been diagnosed and treated properly when he had first shown symptoms several weeks earlier."
Balducci, a top-selling realtor with Sotheby's International Realty, supports numerous local charities including the Indian Cultural Center of Greenwich and the Putnam Indian Field School. She has been involved with Lyme disease through TBDA. Balducci's husband is co-chairman of the organization.
Smith, an award-winning lifestyle writer, active member of the Greenwich community and close friend of the Balducci's, said she decided to co-chair because she "wanted to transition from being a victim to being an advocate."
She suffered from Lyme for several years before she was diagnosed, Smith said, because her doctor had only given her the ELISA test, which has a high false negative rate. When she lost her pregnancy at 22 weeks, doctors could not come up with the reason. It wasn't until nearly a year later, with a new doctor, that she learned that Lyme was the likely culprit. "Had there been an accurate diagnostic test and I received treatment sooner," Smith said, "it would have spared me immeasurable physical and emotional trauma, and I might have my daughter today."
Balducci and Smith's goal for this year's Gala? To raise significant funds for the continuation of critically-needed research to develop a highly accurate diagnostic test and treatment of late-stage Lyme. And, on a lighter note, they want everyone to enjoy a fabulous party.
"We want to thank Amy and Riann for taking on this leadership role," said Diane Blanchard, co-founder and co-president of LRA."We know they will do a fantastic job and we look forward to making this our most successful Gala ever." Added Staci Grodin, president of TBDA: "Amy and Riann's passion and dedication to the cause is remarkable. We are so fortunate to have them spearheading this Gala."
The "Time for Lyme" Gala will be held Saturday, April 11 from 6:30 p.m. to midnight and features a cocktail reception, dinner, dancing and a live auction. This year's Gala will also celebrate the merger between LRA and TBDA. The merger will result in the formation of the leading tick-borne disease organization, allowing for greater resources to be applied to research on urgently needed improvements in diagnostics and treatments, while maintaining education programs for the general public and physicians.
TICKET INFORMATION
For more information, or to purchase tables or tickets, please visit LymeResearchAlliance.org and click on the homepage box, or call 203-969-1333.
###