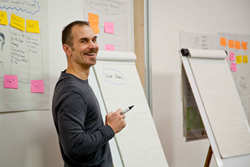 Roman is an expert on lean and agile methods. Romans teaching skills are great, his knowledge is deep and his dedication towards Product Owner makes him a perfect trainer who understands how to get the message to the students.
London, England (PRWEB UK) 28 January 2015
Working as a Product Manager or a Product Owner is simultaneously rewarding and challenging. Having the opportunity to create a new product that make users' lives easier or better can be exciting and energising. But aligning, guiding, and influencing the various stakeholders can feel like herding cats.
This interactive and engaging workshop teaches Product Managers and Product Owners the leadership skills they need to be an inclusive, engaging, inspiring and successful product leader.
The agenda includes:
Leading through Shared Goals

Goal-directed product leadership
Choosing the right goals: Vision, strategy, release, and sprint goals
Techniques for creating compelling shared goals
Getting to Agreement: Decision-making and Negotiation
Gathering diverse viewpoints
Principles for building sustainable agreements
Developing inclusive solutions
Managing the Stakeholders
Understanding the stakeholder interests
Choosing the right leadership style
Encouraging effective stakeholder participation
Seats are limited for this collaborative workshop. To book a seat now or for more information visit http://www.romanpichler.com/training-courses/leadership-skills-workshop-product-managers-product-owners/
About Roman Pichler
Roman is a leading product management expert specialising in lean and agile methods. He has an outstanding track record in teaching and coaching product leaders. Roman is the author of the acclaimed book "Agile Product Management with Scrum" and writes a popular blog at http://www.AllThingsProductOwner.com.
About Geoff Watts
Geoff is an experienced and passionate leadership coach who works with bold, forward-thinking leaders to create engaged, creative, autonomous teams and develop a culture of reflection and empowerment. He is the author of the popular books Scrum Mastery: From Good to Great Servant-Leadership and The Coach's Casebook: Mastering the Twelve Traits That Trap Us. Find out more at http://inspectandadapt.com/.
Contact:
Roman Pichler
Pichler Consulting
07949 203772
info(at)romanpichler(dot)com
http://www.romanpichler.com