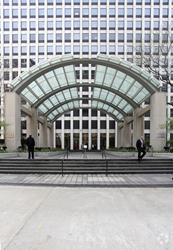 "As an industry leader for over 100 years, R.J. O'Brien has grown significantly in the past several years and had the foresight to ensure it had space to accommodate that growth. The new lease enables RJO to support its continued momentum and success."
Chicago, IL (PRWEB) January 27, 2015
Savills Studley, the leading commercial real estate services firm, announces that long term client, R.J. O'Brien & Associates LLC (RJO), will relocate its headquarters to approximately 53,000 square feet on the 12th and 27th floors of 222 South Riverside Plaza. RJO has occupied the 9th and 27th floors of the building for more than a decade and will move into its new space this coming summer.
Rick Schuham, John Goodman and Eric Feinberg, all of Savills Studley, negotiated the transaction for the firm. Steve Smith of JLL represented the landlord.
According to Schuham, RJO, the oldest and largest independent futures brokerage firm in the United States, will install cutting edge amenities and office efficiencies in its new space. "As an industry leader for over 100 years, R.J. O'Brien has grown significantly in the past several years and had the foresight to ensure it had space to accommodate that growth. The new lease enables RJO to support its continued momentum and success."
Gerald Corcoran, RJO Chairman and CEO, said: "Our partnership with Savills Studley spans over two decades, and the firm was able to fully understand our needs in order to secure lease terms that allow us meet our operational and financial goals and promote continued employee satisfaction enabling RJO to better serve our clients."
About RJ O'Brien & Associates LLC
Celebrating its centennial year in 1914, R.J. O'Brien & Associates is the largest independent futures brokerage firm in the United States, serving institutional, commercial and individual clients globally, in addition to a network of 400 introducing brokers (IB). Clearing more than 100,000 client accounts, RJO services the industry's most expansive global network of IBs, a vast array of middle market firms and many of the world's largest financial, industrial and agricultural institutions. The firm offers state-of-the-art electronic trading and 24-hour trade execution on every futures exchange worldwide.
About Savills Studley
Savills Studley is the leading commercial real estate services firm specializing in tenant representation. Founded in 1954, the firm pioneered the conflict-free business model of representing only tenants in their commercial real estate transactions. Today, supported by high quality market research and in-depth analysis, Savills Studley provides strategic real estate solutions to organizations across all industries. The firm's comprehensive commercial real estate platform includes brokerage, project management, capital markets, consulting and corporate services. With 25 offices in the U.S. and a heritage of innovation, Savills Studley is well known for tenacious client advocacy and exceptional service.
The firm is part of London-headquartered Savills plc, the premier global real estate service provider with over 27,000 professionals and over 600 locations around the world. Savills plc is listed on the London Stock Exchange (SVS.L).
For more information, please visit http://www.savills-studley.com and follow us on Twitter @SavillsStudley and LinkedIn.
# # #