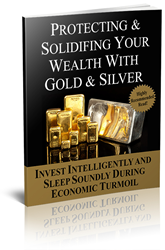 to provide valuable perspectives from many of the leading experts all over the economic landscape. Our hope is that it will help investors be able to make the kinds of decisions that could save them thousands of dollars
Los Angeles, CA (PRWEB) January 28, 2015
To help kick off 2015 with new insights into the state of the world economy and its future prospects, RC Bullion announces the publishing of an exciting new and comprehensive report for 2015. Culling information from a wide variety of respected sources and go-to experts, this report will help investors make better informed decisions for the year ahead.
Managing director John Rozdzielski says of the report: "Much research went into this report. It is filled with facts and figures that are designed to help our clients and others avoid making costly mistakes in their future investment choices."
Making the Best of an Upside and Protecting Against a Downside
Says Rozdzielski: "In this report we analyze the critical indicators of where the stock market could be going, what economic factors may be acting upon it, and how investors can protect themselves from the uncertainties."
Many investors are wondering if the economic expansions of 2014 will continue on or if we're to have a day of reckoning in 2015. This report examines that question in depth.
Some of the other questions addressed in this report:

Is the so-called economic recovery real or not?
What is the Federal Reserve and are its actions going to affect you?
Is inflation coming and if so where to find security for your money if it does?
What affect will oil prices have?
Is European debt going to cost you?
Will the rise of BRICS be the fall of the U.S.?
What does it mean if the U.S. is no longer the world's number one economy?
Are gold and silver prices about to make a big move?
While, obviously, no one can know for sure but one thing is certain: Your best defense against an uncertain economy is to prepare yourself with the best information available. In an attempt to provide investors with this kind of critical information, RC Bullion is making this new report available as a free download at the following link: click here to download your copy
This valuable report will benefit both those with little or no prior experience in investing as well as seasoned investors. It was intended to
"We created this report," Rozdzielski said, "to provide valuable perspectives from many of the leading experts all over the economic landscape. Our hope is that it will help investors be able to make the kinds of decisions that could save them thousands of dollars."
Why Gold and Silver Are the Best Investments Right Now
For over thousands years gold and silver have been the world's standard for storing wealth and holding value. In times of inflation, gold and silver have served as a haven for those looking for an investment that retains its value better than currency-backed assets. Historically, currency-backed can climb in price but drop in value.
"Leaving nest eggs to the mercy of an unpredictable and volatile market can be a high risk proposition," Rozdzielski says. "We hope that the information provided in these reports will show potential clients that investing in gold and silver is the right decision for them."
About RC Bullion:
Since 1998 the founders of RC Bullion have been trading precious metals and have become a trusted national leader in adding precious metals into individual retirement accounts. They are specialists in conversion, transfers, and rollovers of existing IRAs or former 401(k)s into precious metals. They also can provide investors with a wide range of physical products delivered safely and securely to their doors.