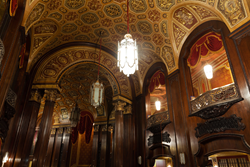 We could not be more pleased to have been part of this exciting and challenging project.
Douglaston, NY (PRWEB) January 27, 2015
Leading New York metro-area mechanical construction, service and energy services firm Trystate Mechanical is pleased to announce the completion of new cooling and heating systems for the restored Kings Theatre in Brooklyn, NY. Trystate's HVAC design and installation contract was awarded by the project's general construction manager, Gilbane. Trystate has also been retained by ACE Theatrical Group, which operates the Theatre, to provide ongoing HVAC maintenance service.
The $95-million public-private project broke ground in January 2013, and the herculean task of its thorough restoration was recently completed. An icon of the golden age of New York City architecture that had been shuttered and neglected for nearly 40 years, the theater will hold its grand re-opening concert featuring Diana Ross on February 3.
Design-assist HVAC construction
Kings Theatre is a great example of Trystate's approach to HVAC design-build / design-assist project delivery. Shortly after the developer was selected by the City of New York for the historic restoration and modernization of the theater, and more than 24 months before construction started, Trystate completed surveying of the existing building's HVAC systems and worked with the owner, construction manager, and design team on HVAC system design, equipment selection, and energy efficiency. Trystate's pre-construction services proved to be a strong financial investment, with its recommendations leading to the construction of an energy-efficient HVAC system that matches the operational needs of the theater with the comfort requirements of its visitors.
"We could not be more pleased to have been part of this exciting and challenging project," said Trystate president Michael Liberta.
"And we were very pleased to be able to assign individuals from the surrounding community, both Brooklyn-based subcontractors and Brooklyn-based workers," said Liberta.
HVAC equipment and salvaged features
Trystate installed two air-cooled chillers in partnership with Trane, which provided controls systems, and four large packaged rooftop gas-fired units powered by natural gas. The chillers and boilers are connected to three air handling units controlled by advanced variable air volume (VAV) units. Refrigeration split systems were installed to provide spot cooling in critical high-heat areas such as projection booths.
Fortunately much of the original ductwork was able to be salvaged by Trystate, which worked with strategic partner TechClean to clean, repair, sanitize, and reline the existing ductwork. Additionally, a series of existing tunnels underneath the seating bowl was cleaned, sanitized, and coated so that they could serve as the return air system for the theater. These important steps reduced the need for demolition of the architectural ceilings, avoiding the associated cost, waste, and loss of important features.
More about Kings Theatre
The historic Kings Theatre reopens its doors in 2015 as one of New York's premier performing arts venues. Providing a destination for large-scale popular entertainment and serving as a resource for local arts groups and community organizations, the City-owned Theatre will be a cultural and economic cornerstone of the Flatbush community and add a major fixture to Brooklyn's vibrant cultural landscape. The Kings Theatre was originally designed by Rapp & Rapp in 1929 and was one of the five Loew's 'Wonder Theatres' built in New York and New Jersey during that period. Featuring high curved ceilings, ornate plaster walls, wood paneling, pink marble, and a glazed terra-cotta ornamental façade, the classic 20th-century movie palace was inspired by the French Renaissance Revival style of the Palace of Versailles and the Paris Opera House. Spearheaded by ACE Theatrical Group and designed by Martinez+Johnson Architecture, with Gilbane Building Company serving as construction manager, the redevelopment project both revives the historic structure's original splendor and transforms the Theatre into a state-of-the-art facility with over 3,000 seats—the largest of its kind in Brooklyn. The Theatre was recently selected as a recipient of the 2014 New York State Historic Preservation Award for excellence in preservation and revitalization, and was listed on the National Register of Historic Places in 2012.
The renovation and restoration of the Kings Theatre is a partnership between the New York City Economic Development Corporation and the Kings Theatre Redevelopment Company—a consortium of ACE Theatrical Group, Goldman Sachs Urban Investment Group, and the National Development Council. Public sector funding is provided by the City of New York, through the Office of the Mayor, the Office of the Brooklyn Borough President, the New York City Council and District 40 Council Member Dr. Mathieu Eugene, and by the State of New York. Additionally, the Kings Theatre is a Federal and New York State Rehabilitation Tax Credit project and a Federal New Markets Tax Credit project in partnership with Goldman Sachs Urban Investment Group, United Fund Advisors, and the National Development Council.
http://www.KingsTheatre.com.
Facebook: facebook.com/KingsTheatreBklyn
Twitter: @KingsBklyn
Media contact for the Kings Theatre:
Emily Viemeister
Resnicow + Associates
eviemesiter(at)resnicow(dot)com
212-671-5175
About Trystate Mechanical
Part of the PPL family of companies, Trystate Mechanical is a premier full-service HVAC contractor providing installation and maintenance of air conditioning and heating systems throughout the New York metro market. We're proud to be a leader in the design and installation of green energy technology such as fuel cells. And as a subsidiary of a large energy company, we're able to leverage a range of sustainable energy solutions for clients including hospitals, universities, and cultural institutions. Founded in 1976, Trystate became a wholly owned subsidiary of PPL Corporation in 2002 and is part of PPL's fleet of mechanical contractors located throughout the Northeastern US.