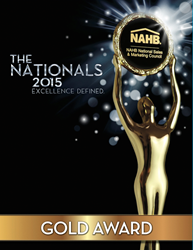 The Nationals set the benchmark for innovations in new home design, marketing, and sales fields
Phoenix, Arizona (PRWEB) January 28, 2015
Toll Brothers and Creative Environments, are proud to announce themselves as recipients of the 2015 Gold Award that that honors Best Design and Outdoor Living Space.
With the award in recognition for an outdoor space designed in a residential resort style. This project included elegant front yard landscaping with a courtyard fire pit and more. The inviting backyard space included a beautiful zero edge pool with a sitting bar towards the low end of the property. A unique pool incorporated two cozy chaise lounge chairs as well as a one-of-a-kind cantilevered metal overhanging structure oriented around boulder feature. With an outdoor gazebo complete with a state-of-the-art kitchen appliance, cooking in the elements at this property is anticipated as an incredibly enjoyable experience. Additionally, an outdoor spa partially concealed by privacy panels off the master bedroom, set a functional yet romantic tone.
The Nationals salutes and honors the best in the building industry for their determination, integrity, creativity and endurance. As the most prestigious awards of their kind, "The Nationals set the benchmark for innovations in new home design, marketing, and sales fields," said Christy Beck, chairperson of the Nationals. "A commitment to recognizing originality, imagination, and success has been exemplified by its award winners since the competition's inception."
Started in 1982 as the Institute of Residential Marketing, The Nationals award program continues to recognize superior new home sales and marketing achievements. With over 57 categories across various disciplines of the new home industry, the awards honor excellence in product and community design, advertising, marketing and sales achievements by individuals and sales teams.
During a three-day judging process, a panel of 7 industry professionals from across the country determined the Silver and Gold award winners from a field of over 1,300 entries.
Silver Award Winners are the top vote recipients in each category and are the finalists for the Gold Awards. Gold Awards in each category were presented as part of the International Builders' Show, the awards ceremony on January 20th at Caesars Palace and drew more than 1,000 attendees.
The Nationals are co-sponsored by Wells Fargo Home Mortgage.
To view Silver Award Winners or to order tickets to the next event, visit http://www.thenationals.com