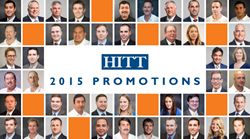 "As we continue to grow across the U.S., our seasoned and newly appointed leaders will help guide the future direction of HITT," said Co-President Brett Hitt.
Falls Church, Virginia (PRWEB) January 27, 2015
HITT Contracting Inc. (HITT), one of the top 100 largest general contractors in America, announces the promotion of 46 employees nationwide.
HITT has named the leader of its Atlanta office, Ryan Bixler, to executive vice president of the US Southeast region. Also, out of the Atlanta office, Roger Delaney has transitioned to senior vice president and Atlanta market sector leader. Across the nation, HITT promoted five employees to the role of Vice President: Josh Foreso, Base Building; Jeet Kharde, Preconstruction; Brian Kilpatrick, Atlanta; Ed Miko, Atlanta; and Ross Rebraca, Technology.
"We are committed to developing the next generation of construction leaders," said Co-President Jim Millar. "I'm proud of this diverse group of professionals who embody the qualities that HITT strives for in serving our clients: construction excellence, integrity, proven experience, and relationship-driven management."
"As we continue to grow across the United States, our seasoned and newly appointed leaders will help guide the future direction of HITT," added Co-President Brett Hitt. "They will elevate the way that we do business by fostering a culture of high performance, responsibility and community building."
HITT has promoted the following employees:
Promotion to Executive Vice President
Ryan Bixler, Southeast Region
Promotion to Senior Vice President
Roger Delaney, Atlanta
Promotion to Vice President
Josh Foreso, Base Building
Jeet Kharde, Preconstruction
Brian Kilpatrick, Atlanta
Ed Miko, Atlanta
Ross Rebraca, Technology
Promotion to Field Vice President
Coleby Cyrtmus, Corporate interiors
Chris Michael, Base Building
Jim Nirich, Law
Promotion to Senior Project Manager
Luke Marshall, Corporate Interiors
Chris Plass, Technology
Rich Ruckman, Institutional
Promotion to Senior Superintendent
Edgar Baez, South Florida
John Bryant, Law
Mark Cantatore, Corporate Interiors
Kevin Griffin, South Florida
Todd Haight, Atlanta
Richard Jacquez, Corporate Interiors
Randy Oakley, Corporate Interiors
Promotion to Estimator
Erin Cestero, Preconstruction
Promotion to Project Manager
Doug Bardin, Institutional
Trevor Begley, Corporate Interiors
Tony Casares, Institutional
Liz Centini, Base Building
Jarrett Craddock, Technology
Jon Duffey, Technology
Nondas Epaminonda, Law
Brian Halter, Atlanta
Andrew Hawkins, Base Building
Sean Ingram, Corporate Interiors
Lindsay Martens, Corporate Interiors
Jeff Mears, Corporate Interiors
Joe Murphy, Government
Sadek Omar, Corporate Interiors
Jake Pollack, Corporate Interiors
Josh Shelton, Base Building
Promotion to Manager
Kaitlyn Duffy, Subcontractor Relationships
Maria Vogele, Payroll and Benefits
Promotion to Superintendent
Tom Bardin, Charleston
Carlos Gonzalez, Atlanta
Ben Jones, Government
Kyle Petty, Atlanta
Davis Wallace, Denver
Promotion to Assistant Superintendent
Pedro Cruz
Francisco Perez
For more information, follow HITT at http://www.linkedin.com/company/hitt-contracting-inc.
About HITT Contracting Inc.: Founded in 1937, HITT Contracting has grown to be ranked among today's 100 Largest General Contractors nationwide, with offices in Washington, DC, Atlanta, Baltimore, Charleston, Denver and South Florida. Our client-focused teams fulfill any program need from a doorknob change to base building shells and complete tenant/owner fit-outs. Company-wide, HITT maintains more than 700 employees, including a skilled in-house field force available 24/7 to support clients long after initial occupancy. The HITT Way for quality and excellence defines the core of our mission and how we are structured. Teams are organized into expert market sectors, specializing in corporate base building and interiors, government, healthcare, hospitality, institutional, law firms, industrial, paint and service and technology. Complementing these market sector teams are the preconstruction, sustainable construction and subcontractor relations divisions. For more information, please visit http://www.hitt-gc.com/. Follow HITT on Twitter: @twHITTr, Facebook, LinkedIn, youtube.com/HITTplay, and Instagram: @HITT_Contracting.