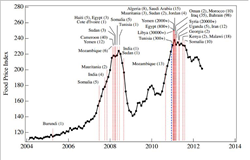 "Food-for-fuel climate policies are a key factor in Middle East-North Africa violence and the major reason Europe is flooded with migrants."
Calgary, Alberta, Canada (PRWEB) January 29, 2015
A new VICE News documentary entitled "Storming Spain's Razor-wire Fence: Europe or Die" posted on the internet Jan. 26, 2015 is graphic evidence of the desperation gripping African migrants who risk injury and death to escape civil unrest, hunger and unemployment, but there was no mention of this migrant crisis at Davos this year, say Friends of Science. They also say it is climate change policies, not global warming, causing this flood of aslyum seekers.
Norm Kalmanovitch, P. Geoph., resident science adviser to Friends of Science, disputes the claim that climate change is causing this migration, saying it is bio-fuel policies that have driven up food prices in subsistence nations.
"This is a 'crime against humanity,'" says Kalmanovitch, "particularly in light of almost 20 years of flat-lined temperature trends, despite a rise in carbon dioxide (CO2), as reported by the Wall Street Journal Jan. 20, 2015."
"Why continue a failed policy to 'stop global warming' when global warming has stopped by itself," asks Kalmanovitch, pointing out that all reporting climate agencies confirm a large margin of error in their recent 'hottest year' claims.
Kalmanovitch's concerns about biofuels were stated by UN Special Rapporteur of the right to food, Jean Zeigler, as early as October 26, 2007 in an official UN communique that called for a 5 year moratorium on biofuel production.
Zeiglar is quoted in the article as saying: "It is a crime against humanity to convert agricultural productive soil into soil which produces foodstuff that will be burned into biofuel."
"Zeiglar again issued a cry for action on biofuels Nov. 26, 2013 in this article in The Guardian.
"Davos world leaders in 2015 continued to beat the climate change catastrophe drum, instead of addressing climate change policy madness," says Kalmanovitch. "Food-for-fuel climate policies are a key factor in Middle East-North Africa violence and the major reason Europe is flooded with migrants."
In addition to the shocking footage of waves or asylum seekers scaling razor-wired fences in Spain as seen in the VICE News "Europe or Die" documentary, Human Rights Watch has just issued a statement in Paris on Jan. 20, 2015 decrying the treatment of migrants in Calais, France, alleging police brutality and lack of suitable facilities.
A 2012 study by the New England Complex Systems Institute foretold much of the global civil unrest by tracking UN Food and Agriculture prices against socio-economic standards in various countries.
Kalmanovitch says, "Al Gore's presentation at Davos was filled with images of catastrophic weather events – there is no empirical evidence showing a trend to warming or extreme weather. Instead, the most human suffering on Earth is being caused by climate change policies that support biofuels – but no one at Davos even mentioned this."
According to Kalmanovitch, the Kyoto Protocols set up ideology that has led to these catastrophic policies: "Biofuels have stripped some 6.5 percent of the world's grain from global food supply. Humans have instigated a new genocide of the world's poor, thanks to the scientifically fraudulent Kyoto Protocol," says Kalmanovitch.
Kalmanovitch explains the science on the Friends of Science blog.
Friends of Science holds the view that the sun is the main driver of climate change, not you and not CO2.
About
Friends of Science has spent a decade reviewing a broad spectrum of literature on climate change and have concluded the sun is the main driver of climate change, not carbon dioxide (CO2). Friends of Science is made up of a growing group of earth, atmospheric and solar scientists, engineers, and citizens.
Friends of Science Society
P.O. Box 23167, Mission P.O.
Calgary, Alberta
Canada T2S 3B1
Toll-free Telephone: 1-888-789-9597
Web: friendsofscience.org
E-mail: contact(at)friendsofscience(dot)org