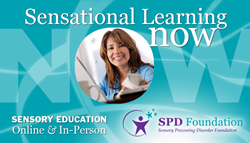 We strive to provide programs that are valuable to therapists, teachers and families seeking in-depth and accurate information about SPD.
Denver, Colorado (PRWEB) January 28, 2015
The Sensory Processing Disorder (SPD) Foundation's Announces New Signature Series Lectures presented by prominent leaders and researchers in the field of SPD. New courses are now available which provide valuable and insightful information for those who deal with sensory challenges. Just released for viewing: "SPD, What Is It? A Developmental Pediatrician's Clinical and Research Perspective" is presented by Dr. Edward Goldson, professor in the Department of Pediatrics at the University of Colorado Health Sciences Center, and offers helpful information for both parents and clinicians looking for information that supports SPD as a unique clinical entity. Upcoming lectures include "Every Moment Counts: OT's Role in Promoting Mental Health Throughout the School Day" presented by Susan Bazyk, PhD, Professor in the OT Program at Cleveland State University and later this spring, a presentation by Serena Wieder, PhD, Clinical Director of Profectum and Founder of ICDL.
Some of the latest courses available now include:
-- "Helping the Picky Eater at School" - Dr. Kay Toomey feeding expert
-- "How Can We Identify Infants At Risk for ASD or SPD? Quality of Movement Indicators" - Joanne Flanagan, ScD, OTR/L
-- "An Overview of Sensory Processing Disorder for Educators" - Stephanie Capshaw, OTD, OTR/L
-- "A Sensible Approach to Sensory Processing Disorder: Postural Disorder" - Sarah A. Schoen, PhD, OTR/L
-- "The Out-of-Sync Child: An Introduction to Sensory Processing Disorder" – Carol Stock Kranowitz
-- "Video-Self Modeling: Enabling Children to be Successful Learning New Tasks by Watching Themselves in a Video Performing a Task" - Claudia Faierman-Shulman
SPD University offers the latest online courses and lectures developed by the leading authorities on Sensory Processing Disorder with a rich set of e-learning opportunities for professionals and parents.
SPD is a neurological disorder that disrupts the way an individual processes and responds to sensations. A person with SPD usually has difficulty with social interactions, emotion and behavior regulation, and/or motor performance. SPD affects daily activities and relationships impairing quality of life and includes the sensory challenges associated with attention deficit disorders (ADD and ADHD), autistic spectrum disorders, anxiety disorders, emotional and behavioral disorders, learning disorders, and other developmental issues.
The Sensory Processing Disorder Foundation also offers in-person workshops and conferences. The annual 3S Symposium will be held in Orlando, Florida with topics covering the evolving trends in the field of Sensory Processing Disorder and the latest on evidence-based treatment. GOAL (Goal-Oriented Assessment of Lifeskills) Workshops are conducted in over twenty cities this year. The GOAL is an innovative new evaluation of functional motor abilities needed for daily living in children ages 7 to 17. The Foundation continues to host its unique Intensive Mentorships for professionals at its headquarters outside of Denver, Colorado. Developed by Dr. Kay Toomey, the SOS (Sequential Oral Sensory) Approach to Feeding provides instruction on assessing and treating feeding difficulties and weight/growth problems in children.
"Our goal is to provide speakers that are among the best in the field," said Executive Director Sheryl Benjamin. "We strive to provide programs that are valuable to therapists, teachers and families seeking in-depth and accurate information about SPD."
ABOUT SENSORY PROCESSING DISORDER FOUNDATION
The Sensory Processing Disorder (SPD) Foundation, a Colorado 501(c)(3), is the world leader in research, education, and awareness for Sensory Processing Disorder, a neurological condition that disrupts the daily lives of more than 4 million Americans. The SPD Foundation offers educational programs, conducts SPD research, and provides resources for parents worldwide. Dr. Lucy Jane Miller, widely recognized as a leader in SPD research worldwide, founded the SPD Foundation in 1979. The SPD Foundation provides hope and help to individuals and families living with SPD. For more information, visit SPDFoundation.net or call 303-794-1182.