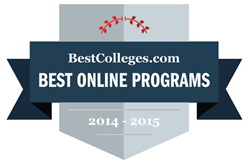 ...the highest-quality online programs aren't always obvious.
Houston, TX (PRWEB) January 29, 2015
BestColleges.com announces its 2015 picks for colleges with the best online Associate and Bachelor's degree programs. 25 accredited schools made each list, and all offer at least three full-time, 100% online programs.
The most recent data shows the number of online programs available has increased year to year by over 30%. It's expected this trend will continue. With so many choices available, many students look to reliable, fact-based rankings to help narrow their choices. Using data collected from the National Center of Education Statistics (NCES) BestColleges.com included admissions, enrollment, retention, and graduation rates to rank the top schools accordingly.
"There's a lot of conflicting information out there about online programs. Are they legitimate? Are they effective?," said Stephanie Snider, Product Manager of BestColleges.com. "Online learning has gone mainstream, and our goal is to help students find a reputable, accredited program that meets their needs."
Topping the list of this year's best online Bachelor's programs is the University of Florida. Consistently ranked as one of the nation's top public schools, their online programs reflect this excellence. UF offers academic experiences and professional degrees through its online classroom that are equal to degrees earned on campus.
Rounding out the top five schools are George Washington University, University of Central Florida, Georgia Southern University, and Florida State University. These schools alone represent over 30 available online programs across a range of subjects, including Sport Management, Information Technology, Fire Science, Education, and more.
Most universities now offer some level of online coursework, but not every online program is as rigorous as its on-campus equivalent. The BestColleges.com list of the top online degree programs works for students because the highest-quality online programs aren't always obvious.
Below are the Best Online Schools of 2015 as ranked by BestColleges.com:
Top Online Bachelor Degree Programs
1. University of Florida
2. George Washington University
3. University of Central Florida
4. Georgia Southern University
5. Florida State University
6. Pennsylvania State University
7. University of Minnesota - Twin Cities
8. The University of Alabama
9. Appalachian State University
10. Misericordia University
11. Mississippi State University
12. University of North Carolina at Wilmington
13. East Carolina University
14. Asbury University
15. Florida International University
16. University of Oklahoma - Norman
17. Rowan University
18. University of Missouri - Kansas City
19. Dallas Baptist University
20. Clarkson College
21. Texas Tech University
22. Kennesaw State University
23. University of Missouri - Columbia
24. University of North Dakota
25. University of Cincinnati
Complete rankings can be found here: http://www.bestcolleges.com/features/top-online-schools/#online-bachelors-degree-programs
Top Online Associate Degree Programs
1. Mitchell Technical Institute
2. Alexandria Technical & Community College
3. Northwest Iowa Community College
4. Foothill College
5. Moraine Park Technical College
6. Western Wyoming Community College
7. Northeast Community College
8. Olney Central College
9. Wisconsin Indianhead Technical College
10. Citrus College
11. Nebraska College of Technical Agriculture
12. Santiago Canyon College
13. Minnesota West Community and Technical College
14. Seward County Community College and Area Technical School
15. Kennebec Valley Community College
16. Casa Loma College - Van Nuys
17. Big Bend Community College
18. Northcentral Technical College
19. North Dakota State College of Science
20. City College of San Francisco
21. West Kentucky Community and Technical College
22. Palomar College
23. Ridgewater College
24. Fox Valley Technical College
25. Gateway Community and Technical College
Complete rankings can be found here: http://www.bestcolleges.com/features/top-online-schools/#online-associate-degree-programs
ABOUT BESTCOLLEGES.COM
BestColleges.com was founded in 2012 with the mission of helping prospective students find the college that best meets their needs. Visitors to BestColleges.com can find the tools and resources they need to meet success throughout their higher education career. Those in the college planning stage can take advantage of college rankings, a searchable database of schools, and financial planning guides.