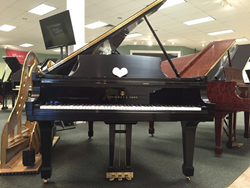 (PRWEB) January 29, 2015
Piano shoppers will get a sweet surprise from Hall Piano Company now through February 28th! In addition to event savings on all pianos in stock, with delivery of a new grand piano they will receive a bouquet of red roses from Villere's Florist.
Steve Kinchen, co-owner of Hall Piano Company, said, "We want everyone to fall in love with their experience at Hall Piano Company. Not just their new piano, but the entire experience!"
Conveniently located at 901 David Drive, Metairie, Louisiana, Hall Piano's inventory boasts over 75 pianos immediately available, including grand pianos, upright models and digital keyboards. Another very popular "gift" is the upgrade of a digital player system.
Hall Piano Company offers piano lessons to children and adults in a variety of styles. From pop, jazz and classical to gospel, praise/worship and improvisation, our musical educators help their students discover abilities, set goals and enjoy the musical learning experience. In addition to piano lessons, Hall Piano's services include piano sales and rentals, acoustic and digital piano sales, piano moving, repairs and method books.
Kinchen commented, "Shoppers are invited to come see and play our many models. The unique touch and sound of each piano is an experience like no other, and very personal. We're here to assist each customer in connecting with their perfect piano. But these sweetheart savings are only available through February 28th."
Hall Piano Company is South Louisiana's premier Steinway & Sons dealer. For additional information about available inventory and services, contact Emily McWilliams at emilym(at)hallpiano(dot)com or call 504.733.TUNE.