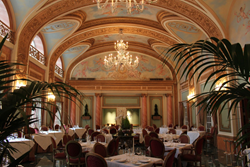 We are honored to receive the prestigious AAA Five Diamond Award and Crescent is proud to continue this tradition," said Michael George, Founder, President and CEO for Crescent Hotels & Resorts
Dallas, TX (PRWEB) January 30, 2015
The American Automobile Association (AAA) has bestowed their renowned Five-Diamond award upon The French Room, the signature fine dining restaurant at the historic Adolphus Hotel in Downtown Dallas. Crescent Hotels & Resorts, which operates both the hotel and restaurant, is pleased to note that this is the 27th consecutive year The French Room has achieved the coveted accolade of AAA's highest rating.
"We are honored to receive the prestigious AAA Five Diamond Award, and Crescent is proud to continue this tradition," said Michael George, Founder, President and CEO for Crescent Hotels & Resorts. "The legacy of the elegance and grandeur of The French Room is carried on thanks to our hard working and talented restaurant team; with staff members who have been dedicated to The French Room for over 20 years."
AAA's team of inspectors evaluate thousands of lodging & dining establishments each year and assign an overall rating of one to five diamonds. Restaurants earning a five diamond rating are renowned for world-class experiences with unique food preparation by highly acclaimed chefs and a maître d' leading an unobtrusive expert service staff. Only 63 of the 30,000 restaurants rated receive a Five Diamond rating. The French Room has maintained its esteemed stature since 1989 and is one of the longest standing restaurants to hold this title.
"Attaining the Five Diamond Rating is an impressive accomplishment and a point of great pride for these top restaurants," said Michael Petrone, Director of AAA Inspections & Diamond Ratings. "Five Diamond establishments stand apart by redefining personalized service, using creativity to enhance guest comfort and providing memorable experiences."
Noted for its cuisine, décor and service, The French Room's internationally trained culinary team is led by Executive Chef, Marcos Segovia and the skillful wait staff is directed by maître d'hôtel, Jim Donohue to present a cutting edge menu, deliver expert service and provide a unique dining experience. The French Room is the only restaurant in the state of Texas to receive this honor and has set the standard for fine dining in Dallas since 1981, when the restaurant opened to complement the elegance of its counterpart, The Adolphus Hotel.
ABOUT CRESCENT HOTELS & RESORTS
Crescent Hotels & Resorts is a nationally recognized, top-10 independent third-party operator of hotels and resorts. Crescent currently operates over 80 hotels and resorts, with close to 19,000 rooms in 29 states and Canada. Crescent is one of a small group of independent management companies approved to operate hotels under the Marriott, Hilton, Starwood, Hyatt and InterContinental flags. Crescent also operates a collection of legendary independent hotels and resorts. For more information, please visit http://www.chrco.com.
ABOUT AAA INSPECTIONS
AAA is the only rating system that conducts on-site professional evaluations guided by member priorities. And, with more properties than any other rating entity, AAA is the only rating system that covers the U.S., Canada, Mexico and the Caribbean. For 77 years AAA has used professional inspectors to conduct in-person property inspections and publish the results, on a system of One to Five Diamonds, to guide member travel decisions. Diamond Rated hotels and restaurants are listed in AAA trip planning products: the eTourBook® guides and AAA Mobile® app for tablets and smartphones, the TripTik® Travel Planner and Travel Guides on AAA.com, and AAA TourBook® guides available at AAA/CAA offices. Travelers can learn about AAA inspections and Diamond Ratings at AAA.com/Diamonds.