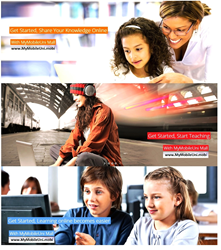 "An investment in knowledge pays the best interest." -Benjamin Franklin
Kula Lumpur, Malaysia (PRWEB) January 30, 2015
The beginning of January 2015, Malaysia welcomed 30 international volunteers from 22 countries who were joined by their local counterparts participating in the VIP Fellowship Program. Overseas professionals will contribute their expertise for the social and economic development of Malaysia through voluntary activities under the Volunteering for International Professionals (VIP) program.
The VIP Fellowship program is a Malaysian government initiative to create a large pool of talented professionals, who are passionate about sharing their expertise and experiences globally, as expert volunteers to contribute towards nation-building. Secretary-general of the Treasury, Tan Sri Mohd Irwan Serigar Abdullah said for a start, 30 foreign professionals would combine efforts with 20 local professionals for four months to implement 10 projects under nine identified fields. The fields are youths at risk, the homeless, the unemployed, environment and wildlife, educational opportunities, rural transformation, empowerment of women, social equality, and health.
My Mobile University is one-stop center to access free and quality learning content that offers learning on-the-go. My Mobile University provides students with scalable, online learning solutions, as global students, professionals, and businesses have to remain relevant in their pursuit of success and competitive.
Currently, the website [http://www.mymobileuni.com __title__ My Mobile University] provides over 20 channels of learning resources ranging from Universities and Colleges, Entrepreneur and Business Programs, Computer Science and IT Programs, Professional Courses, Soft Skills and Skills Training for the Workplace, Video Talks and Lectures, Life Skills and Lifestyle Programs, education software tools and mobile apps for your mobile devices.
My Mobile University last year released its mobile App and it is going to impact lives globally and transform the way we learn said Dr. Lawrence Wasserman, Vice President, Strategic Alliances. At the end of the day it is not just about delivery of education to communities. It is about delivery of the right quality of education that will help enhance and impact lives.
My Mobile University seeks to partner globally with companies, public and private sector, and NGO's who have similar visions of transforming individuals and empowering communities through education:

to impact the lives of people through education anywhere, anytime 24/7 for all ages
to have focused channels on youth development, woman and girls, and child empowerment
to promote equal access to education and inclusion, of the most vulnerable segments of society, such as the disabled via ICT, so as to ease an individual's access to learning
As pioneer of e-learning in the Asia Pacific Region, My Mobile University contributes as one of the hosting organizations of the VIP Fellowship program this year. The Fellows include Ms. Isabel Lopez who has 11 years of experience in 3 social fields: Gender, Communication and Education from Spain will be joining My Mobile University to encourage lifelong learning culture among Malaysians, and law graduate from Universitas Indonesia.
Ms. Agita Pasaribu the founder of TweetKuliah, has a deep passion for impacting social change by embracing the power of people, particularly for connecting change and technology, together with other fellows, she will be carrying out a national campaign in promoting on line education for all in Malaysia.
To improve its website and mobile application, My Mobile University welcomes Feruz Rakhmankuov from Russia who is the founder of "Undergraduate VK", the Number 1 Eurasian online media site for international education. Aside from global volunteers, the fellowship has also recruited two Malaysian professionals Neow Ker Eong, who studied at Imperial College London and Nur Deehan Binti Baharudin who will contribute towards building partnership between My MobileUniversity and the Malaysian Government and companies.
Wemel Cumavoo, co-founder and CEO at MyMobileUniversity, said, this initiative of VIP programme is part of the government's goal to transform Malaysia into a high-income nation by 2020, as announced by Malaysia's Prime Minister, Dato' Sri Najib Razak, at the National Blue Ocean Strategy (NBOS) Summit in December 2013. International expert volunteers offer transferable and high value skills as well as knowledge to enrich the Malaysian landscape, contributing towards the country's ambition of being a high-income nation.
The Fellowship program is designed, and hosted by Impact HUB Kuala Lumpur and Scope Group on behalf of the Ministry of Finance Malaysia. This four-month fellowship offers the opportunity for professionals to use their expertise in addressing Malaysia's most pressing social issues. The program aims to evoke a long-term social change in the country, said Dr. Lawrence Wasserman.
Corporate HQ
Rani Wemel,
Co-Founder/COO
http://www.LTTCOM.com
founders(at)MyMobileUni(dot)com
Tel: +60377323443 Mobile: +60192070510 Skype: lttglobal http://www.Facebook.com/MyMobileUni
Dr Lawrence Wasserman
Vice President, Strategic Alliances
dr(dot)lawrence(at)MyMobileUni(dot)com | wfuture(at)hotmail(dot)com | Skype: galaxy139
Tel (O): +1 301.424.1383 | Fax: +1 301.424 1383 |
Cell +1 240.462.3471 | Skype: galaxy139 |Twitter: FORTECH139|