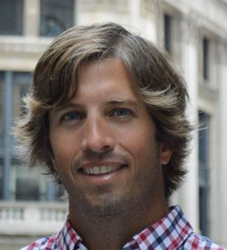 Newburyport, Massachusetts (PRWEB) February 02, 2015
February 2, 2015 – Mechanica, a next generation marketing and brand development agency, today announced a Brand Experience Strategy practice and the appointment of a veteran experiential executive, Bill Goff, to lead it. Goff joins Mechanica from Digitas and Mullen, two global marketing firms.
"Our clients are all seeking to create omni-channel brand experiences that can truly connect and add value across the entirety of a customer's journey," said Ted Nelson, Mechanica CEO and co-founder.
"Bill's expertise in comprehensively mapping a customer's complete journey -- before, during and after the actual purchase experience, and across all touch points – makes him the ideal lead for our Brand Experience Strategy practice. His expertise in illustrating how the 'experience' a brand enables is an actual extension of how a brand is defined and positioned among consumers is a significant addition to our client offering."
During a 13-year span working at Mullen and later at Digitas, where he served as VP/ Group Director of Experience Strategy and Design, Goff has worked with familiar brands such as GM, Dunkin' Donuts, Sealy Corp., Aflac and Stop & Shop, among many others.
"Consumers perceive and evaluate brands based on attributes that go well beyond look, feel and offering," Goff said. "Today, a customer's perception of a brand is largely based on the many micro and macro moments – all of the touch points -- a consumer experiences throughout his or her journey with a particular brand. A brand's ability to be there, listening, guiding and evolving with a person, has a direct correlation to someone's perception of that brand and their willingness to engage."
"Our new Brand Experience Strategy practice enhances what has always been Mechanica's approach to brand development," Nelson added. "At Mechanica, we don't build experiences. Instead, our focus is on building brands that enable great experiences to happen with brands consumers already love, and with ones they just may be getting to know."
More New Mechanics
In addition to Goff, Mechanica recently welcomed Michelle Arsenault and Emily Grimes as its newest brand directors. RobynKichen also joined the agency as a designer. Arsenault joined Mechanica after 15 years of work with agency groups in Boston, Chicago and Portland, Maine, in addition to her most recent position at Irving Oil. Grimes comes to Mechanica with business-to-consumer/business brand experience that includes Sam's Club, Harvard Pilgrim Health Care, Novartis and Liberty Mutual. Kichen is a 16-year print/digital experience professional and has worked with brands that include Fidelity Investments, Reebok and the MBTA.
Recent Wins Get 2015 Off to Fast Start
In addition its second run with Saucony, Mechanica has added a range of other exciting clients to its portfolio:
· -Cheer Networks: focused on helping executives and human resource teams with limited budgets attract top talent.
· -StudentDefend: a national service that makes it fast and easy for college students to speak with a qualified criminal attorney in times of urgent legal need.
· -T2 Biosystems: Setting a new standard in clinical diagnostics to identify life-threatening pathogens associated with sepsis directly from whole blood in hours instead of days.
· -LuckyVitamin: An online retailer of health and wellness products such as vitamins, supplements, health foods, and personal care products.
· -RBM Technologies: Redefined the concept of visual merchandising management through a unique set of web-based solutions and services that optimize in-store execution of campaigns
· -PATS Aircraft Systems: Provides the broadest and highest level of personal service for commercial, business, VIP and head-of-state aircraft manufacturers, customers and operators worldwide.
About Mechanica
Mechanica is a ten-year-old firm focused on solving problems and creating opportunities for restless marketers by being strategically based, creatively expansive and humanly fixated. The firm's work spans brand and contact strategy, design, digital, advertising, events, public relations and social media. Current clients include: Saucony, High Liner Foods, Northeastern University, Kripalu, Bit9+Carbon Black, Fetch, AeroFarms, Houghton Mifflin, PBS, Akamai, Kronos, PTC, and Nuance. For more information visit http://www.mechanicausa.com