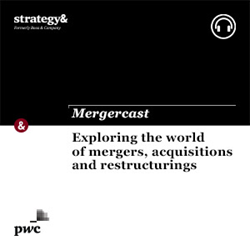 Supercompetitors differentiate by creating value for customers and backing it up with a set of capabilities that deliver the promise, then building scale around those capabilities.
New York, NY (PRWEB) February 03, 2015
Supercompetitors such as P&G, Amazon and Danaher have changed the very dynamics of their industries through innovation. Now, their approach to deal making is redefining the rationale for successful mergers and acquisitions.
No longer are diversification or size the key drivers of successful deal making. Increasingly, a focus on strengthening or better utilizing companies' distinctive capabilities is giving them an edge. "Supercompetitors differentiate by creating value for customers and backing it up with a set of capabilities that deliver the promise, then building scale around those capabilities," Paul Leinwand, a Senior Partner at Strategy&, said in a new podcast episode of Mergercast by Strategy& titled "The New Supercompetitors."
As an example of this, Leinwand cites Danaher, the D.C.-based industrial manufacturing conglomerate known for its Danaher Business System (DBS) to drive continuous improvement across its many subsidiary companies. DBS is embedded into every aspect of the company and underpins the capabilities system that drives Danaher's global success.
When such companies approach M&A, they typically focus on deals that exploit or strengthen a core set of capabilities.
"We will see more transactions that are capabilities-driven – in our study of 320 deals across eight sectors, the deals that were capabilities-driven had a 12-point annual TSR premium vs. those that had limited capabilities fit," Leinwand said. He noted that the high fixed cost involved in building distinctive capabilities, for example, for sophisticated IT systems had bolstered the appeal of this type of scale. "Companies will use M&A in two ways: to bring in the capabilities that they need – such as Amazon buying Zappos, to combine the companies' unique strengths in customer service – or to buy a business that profits from their existing capabilities – as in the case of Danaher," he added.
Focusing on distinctive capabilities will drive divestitures as much as acquisitions. "As a company defines the three to six capabilities that are going to help them differentiate, they have to look at their portfolio and ask, 'Are there businesses that simply don't fit within the capabilities system?'" Leinwand said. "Simply being big doesn't matter anymore. It's all about being better."
Procter & Gamble is an example of a large company that divested its food portfolio, recognizing that the fast pace of flavor innovation was incompatible with its strength of slower but "big" innovation in personal care categories.
Leinwand notes that in consumer goods, average company size and number of categories have come down in the past 10 years, but average revenue per category has risen. "Supercompetitors are focusing on their distinctive capabilities, defining themselves by what they do best, and trading products around that. If companies don't think hard about the right capabilities, they will be sitting in the land of incoherence."
About Mergercast by Strategy&
Mergercast by Strategy& is a podcast series exploring the world of mergers, acquisitions and restructurings. Episode No. 49, "The New Supercompetitors," has a run time of 13 minutes, 55 seconds. Listeners can play the podcast on its homepage (http://www.strategyand.pwc.com/mergercast) or subscribe via RSS feed, e-mail or the iTunes store.
About Strategy&
Strategy& is a global team of practical strategists committed to helping you seize essential advantage. We do that by working alongside you to solve your toughest problems and helping you capture your greatest opportunities. We bring 100 years of strategy consulting experience and the unrivaled industry and functional capabilities of the PwC network to the task. We are a member of the PwC network of firms in 157 countries with more than 195,000 people committed to delivering quality in assurance, tax, and advisory services.